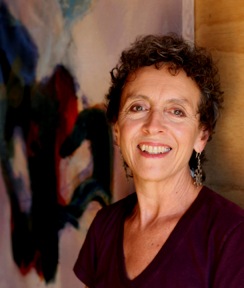 On view July 9 – August 12 2014
An outstanding exhibit of contemporary abstract paintings by Seyburn Zorthian opens at the Kwan Fong Gallery of Art and Culture July 9 – August 12.
Join us for the opening reception in honor of the artist. Wine and tasty treats will be served.
7:00 p.m. on Saturday, July 12
(RSVP on Facebook)
Seyburn's words about her paintings:
"The work I have pursued for the last four decades is rooted in my early love of the American and European abstractionists of the forties and fifties. The direction and ongoing tenor of my painting was deeply influenced by my upbringing in a sophisticated social environment that exposed me to contemporary art, architecture, music (especially jazz), and design, as well as the art of the past masters. My study of abstract calligraphy in Japan further developed this foundation. During a stay in Kyoto in the seventies, I studied an abstract form of sumi (black carbon-based ink) and brush writing called Shoudo. I came back to the studio and began exploring the expressive possibilities of the Asian calligraphy brushes (some very large) with sumi. I worked from the human form, developing a unique process in which I collaborated with a model moving to music, asking him or her to stop in mid-dance, and used brushwork to express the inner and outer lines of the form.
Simultaneously, I felt the need to continue drawing with pencil, charcoal, and ink from life: specifically, more work with the human figure, the face, and occasionally other subjects of the natural world. Throughout the seventies and eighties, the sumi brushwork became more of an inner expression of my own perception, while my drawing gave me a deeper understanding of the physical form of the subject itself. I began to combine these two media in the same piece, which allowed me to integrate the outer aspects of my subjects with a representation of the emotions they evoked from me."