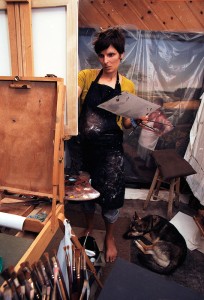 On view August 16 – October 2 2014
In this series of oil paintings, artist Carolin Peters has created an ambitious body of work that expresses the inner journey toward psychological individuation — the philosophical, spiritual, and mystical process of becoming fully oneself by exploring the subconscious mind as the primary source for healing. Her concern for the environment as the home of humanity is clearly evident in her work, which are set in open, pleasant landscapes, where animals provide guidance to the archetypal individual as he seeks his true self.
Join us for the opening reception in honor of the artist:
7:00 p.m. on Saturday, September 6
(RSVP on Facebook)
Wine and tasty treats will be served.