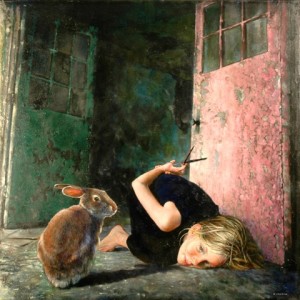 On view October 11 – November 22, 2014
Paintings & Drawings for the Darker Months
Featuring artwork by Teresa Oaxaca, Steven Kenny, Mark Gleason, Alexandra Manukyan, and Pamela Wilson.
Halloween Reception:
Friday, October 31, 2014 7:00 PM
Pamela Wilson is known for paintings of theatrical, sexy, and gothic characters which let the imagination loose to mad narratives of vampires and blood.
Steven Kenny's contemporary surrealist work turns dark and foreboding, with the artist imagining himself as the devil.
Teresa Oaxaca's seductive dolls and marionettes also have creepy elements that sneak into the paintings like an infection.
Mark Gleason's work is reminiscent of the horror stories of Edgar Allen Poe, including black ravens and victims of frightening attacks.
Combining traditional oil painting techniques with surrealist symbolism, Alexandra Manukyan explores masks, wounds, and an emotional landscape of pain, betrayal, and loss.