On view December 2, 2014 – February 4 2015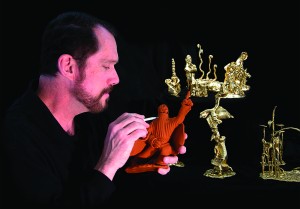 What if you planted a seed, and it grew, for thousands of years? If you were designing a perfect world, who would be in it? Who would you be in a perfect world?
These questions ran through the mind of Gerald Zwers as he began to sculpt the Golden Paladins, figures that appear in the installation A Dream of Utopia. Having just read an article on the Terracotta Army – the clay warriors and horses produced to accompany China's first emperor into the afterlife – Zwers asked himself who would populate his perfect world.
In a yearlong artistic flurry, Zwers created roughly 1,000 paladins – shining gold sculptures and a beautiful collection of line drawings. "Champions of a noble cause," the Golden Paladins make the world a better place and lead all of us to think of the seeds we can sow today. Where can we add goodness and light? Whom can we encourage and support? Each of us has a powerful life force, and the seeds we choose to plant will grow for centuries.
Artist's Reception
Saturday, December 6, 2014 at 7:00 p.m.
(See event on Facebook)