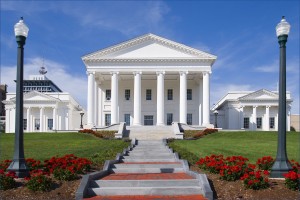 Thursday, Jul 09, 2020
4:00 pm PST
View archived lecture here, available for the duration of the Virtual Lecture Series.
Since the American Revolutionary War, the built environment in the United States has been shaped by the nation's social, religious, political, and economic factors. This image-based lecture will survey American architecture since 1775, focusing on the arc of modernism from colonialism to postmodernism. The design contributions of individual architects, the impact of new technology, and the growth of the architectural profession will be addressed. The broad scope of American architectural history does not allow for an in-depth investigation of a single style, architect, region, or time period. Instead, you will enjoy a highlights reel of American building types and styles since the late eighteenth century. From Benjamin Henry Latrobe to Frank Gehry, state capitols to skyscrapers, and Washington D.C. to Los Angeles, you will discover the major themes and events that have influenced the American built environment we live in every day.
Mary R. Springer is an Assistant Professor of Art History at Jacksonville State University in Alabama. She received a B.A. in Studio Art and Religious Studies from Doane University, an M.A. in Art History from the University of Saint Thomas, and a Ph.D. in Art History from the University of Iowa. She specializes in North American and Modern Art and Architecture, and has a subspecialty in Medieval Art and Architecture. She has presented and published papers and reviews on such American architectural topics as Victorian domestic spaces, Gothic Revival, International Style, collegiate architecture, campus planning, and southern architecture and spaces. Her current scholarship focuses on American Collegiate Gothic architecture. Her current book project, tentatively titled The Gothic Goes to College: An Architectural History of American Collegiate Gothic, 1806-1940, critically examines nineteenth- and early twentieth-century American Collegiate Gothic architecture and its stylistic heritage.
Image credit: Photo by Ron Cogswell, State Capitol of the Commonwealth of Virginia, Richmond (VA), June 2012. Architecture design by Thomas Jefferson and Charles-Louis Clérisseau, built 1785-1788.
This talk is part our COVID-19 response lecture series. Since no one can travel, we're bringing stunning art from worldwide locations to your family at home. These lectures are hosted by experts the world (and US) over, from Australia to New Delhi and Los Angeles to New Jersey. The times are all listed in Pacific Time (PDT) as the university is based in California. Please feel free to direct any questions to rollandgallery@callutheran.edu.