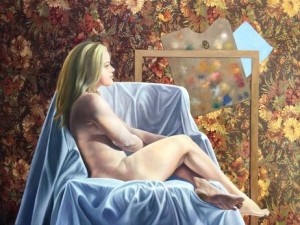 Thursday, Nov 16, 2017
10:00 am - 1:00 pm
Kwan Fong Gallery
120 Memorial Parkway
Thousand Oaks, Ca 91360
Free and open to the public.
Internationally-renowned artist Hernán Miranda will be traveling to Cal Lutheran with an unfinished oil painting to work on at the Kwan Fong Gallery amidst the exhibition of contemporary Paraguayan artwork he curated. Visitors may sit and watch him work or ask questions about his technique and style, which involves deep contrasts of light and dark in interior scenes.
Miranda was born in Concepción, Paraguay in 1960. He formerly taught painting at the Escuela Nacional de Bellas Artes (National Fine Arts School) of Paraguay. He developed his signature painting technique of depicting figures and still lifes by studying old masters' use of chiaroscuro and tenebrism. His work has been featured in over 450 solo and group shows and in galleries internationally, including in Paraguay, Brazil, Uruguay, France, Colombia, South Korea, Puerto Rico, Taiwan, and China, and extensively throughout the U.S.