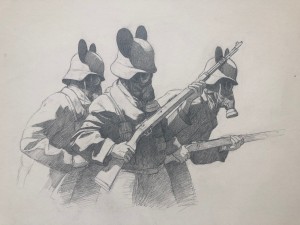 Tuesday, Nov 30, 2021
4:00 pm PST
Ullman 100/101
101 Memorial Parkway
Thousand Oaks, CA 91360
Carl Dobsky: Digression and Progression lecture recording available here.
This event is presented in conjunction with the exhibit Carl Dobsky: Now is the Happiest Time of Your Life in the Kwan Fong Gallery of Art and Culture, on view through Feb. 3, 2022.
The artist will discuss the arc of his career and how he comes to terms with the inevitable conflicts that arise between different artistic schools of thought. By exploring the cul-de-sacs of various artistic attempts, he provides insight into his current body of work.
Will be followed by a reception for the artist in the Kwan Fong Gallery.
COVID-19 Attendance Information: Everyone indoors must wear a mask. All guests must fill out a Daily Health Check Form before entering the lecture room or gallery.
Image: Graphite study for unfinished painting, 2021, courtesy of the artist.
This exhibition and programming was sponsored by the Cal Lutheran University Visual Arts Department.