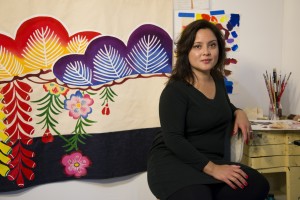 Thursday, Sep 29, 2016
6:00 pm PDT
Overton Hall
3163 Regent Avenue
Thousand Oaks, CA 91360
Thursday Sept. 29, 2016 | 6 pm
Location: Overton Hall
Chicago-based artist Laura Kina will join us for a discussion about her new body of work Uchinanchu: The Art of Laura Kina on display now in the Kwan Fong Gallery of Art and Culture, and most recently displayed at the Kellogg University Art Gallery at Cal Poly Pomona. Kina's textile-based painting series is named after the Uchinaguchi language word for Okinawa. They incorporate recycled t-shirts and are about "islands of diaspora and explore themes of transnational family ties and heritage tourism, mixed-race, ethnic pride and solidarity, military and colonial histories, and current geopolitical military/environment issues in Okinawa and Hawaiʻi." A reception will follow the lecture at the Kwan Fong Gallery.
Kina is Vincent de Paul Professor of Art, Media, & Design at DePaul University and co-founder of the biennial Critical Mixed Race Studies conference. She co-authored War Baby/Love Child: Mixed Race Asian American Art (University of Washington Press, 2013) and acts as reviews editor for Asian Diasporic Visual Cultures and the Americas. Her co-edited anthology Queering Contemporary Asian American Art is forthcoming from the University of Washington Press in spring 2017. Her work has been widely exhibited in galleries and museums nationally and internationally, including in the Smithsonian National Museum of American History and the Japanese American National Museum.
Note: This event was erroneous published in the Cultural Events Calendar as beginning at 4 pm; it begins at 6 pm.