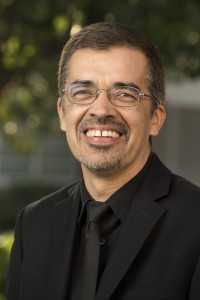 Thursday, Nov 14, 2019
6:30 pm
Lundring Events Center
130 Overton Court
Thousand Oaks , CA 91360
This book talk represents a collaboration of Dr. Alvaro Huerta and his brother, artist Salomón Huerta, where they combined their creative and scholarly efforts (text, art, etc.) to defend and humanize Latinx people based on the book Defending Latina/o Immigrant Communities: The Xenophobic Era of Trump and Beyond. Using his academic training, public policy knowledge, and community activist background, as well as his personal and familial experiences as the son of Mexican immigrants, Alvaro Huerta makes relatable los de abajo/those on the bottom. The text is accompanied by the art of Alvaro's brother Salomón Huerta, and also investigates intersectional issues related to race, class, place, and state violence.
Dr. Alvaro Huerta holds a joint faculty appointment in Urban & Region Planning (URP) and Ethnic & Women's Studies (EWS) at California State Polytechnic University, Pomona. As an interdisciplinary scholar, Alvaro teaches and conducts research on the intersecting domains of community & economic development, Chicana/o & Latina/o studies, immigration & Mexican diaspora, social movements, social networks and the informal economy. He holds a Ph.D. in City and Regional Planning from UC Berkeley, an M.A. in Urban Planning, and a B.A. in History from UCLA. An exhibition of Salomón's work relating to this topic is on display in the Kwan Fong Gallery Nov. 1-Jan. 3, 2019.
Admission is free and open to the public. For any questions, contact the CEJ at (805) 493-3694 or CEJ@CalLutheran.edu.
Organized by the Sarah W. Heath Center for Equality and Justice.