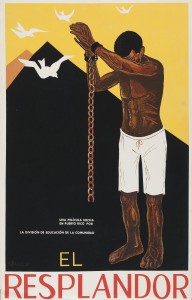 Wednesday, Dec 21, 2016
6:00 pm PST - 7:00 pm PST
Kwan Fong Gallery
120 Memorial Parkway
Thousand Oaks, Ca 91360
Thousand Oaks' resident and Puerto Rican art enthusiast Rodney Torres leads a lecture on music and culture featured in the posters in the exhibit Art at the Service of the People: Puerto Rico's DIVEDCO Poster Art, including sections of select films that are featured in the exhibit. Lecture in Overton Hall, reception to follow in Kwan Fong Gallery of Art and Culture.
Image credit: Eduardo Vera Cortés (Puerto Rican, 1926-2006), El Resplandor (The Splendor), screen print on paper, 19.5 x 31.5 inches, 1969. From the Collection of Drs. Thomas Anderson and Marisel Moreno. Photo by Eric Nisly. Courtesy of Snite Museum of Art, University of Notre Dame.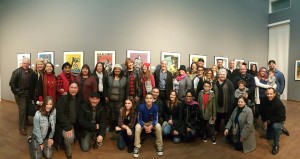 Thanks to the attendees for the lovely photo at the reception!