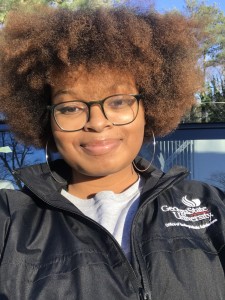 Tuesday, Mar 02, 2021
1:00 pm PST
View archived lecture here, available for the duration of the Virtual Lecture Series.
NOTE: We recommend watching the panelists' short films prior to the lecture (though it won't be necessary to enjoy the conversation). Their works can be seen here: Zameh Omonuwa Hood. (4:55 min) and Yusef Ferguson Rebellion in the Valley (5:44 min). Film contains violence and language, may not be suitable for all audiences.
Atlanta-based filmmakers Zameh Omonuwa and Yusef Ferguson will discuss their films exhibited in the exhibit Common Ground: Artists Reimagining Community. Omonuwa describes her film Hood. as "an experimental work that follows a White teen and a Black teen as they transfer consciousness by putting on an enchanted hood, and dives into the Black teen's trauma, fears, hope, and wonder." Ferguson's film Rebellion in the Valley interweaves his grandfather's stories about the Black LA art and film scenes in the 1970s with his intention of honoring filmmakers from this period, beginning with the 1965 Watts Riot.
Yusef Ferguson is a professional Cinematographer and Editor based out of Atlanta, GA. A creative at heart with a passion for storytelling, his work includes corporate content, social justice documentaries, music videos, and art installations. Utilizing filmmaking as a universal language to connect people from various backgrounds and cultures, his work aims to tell the stories of the disenfranchised. This commitment has lead to creating and curating film content that is inventive and challenging, to push the medium forward. He is the lead cinematographer and editor at the also Atlanta-based Tomorrow Pictures Production House.
Zameh Omonuwa is a recent graduate of the Georgia State University School of Film. The College of the Arts at Georgia State University highlighted her as a Feature Filmmaker in the Artistic Voices series in September of 2020, and her film Hood. was featured on Amplify Two, presented by the research project liquid blackness. She continues her work in film production and screenwriting to uplift voices from marginalized communities. She currently resides in Atlanta, GA.
This event was sponsored by the Cal Lutheran Visual Arts Department.
The Common Ground: Artist Reimagining Community multi-part transdisciplinary lecture series pairs an artist and researcher in conversation to discuss concepts of "community" from their disciplines. Adjunct Visual Art Department professor Jennifer Vanderpool, Ph.D. created the programming in conjunction with curating the exhibition. Inspired by mutual aid societies, Vanderpool integrated the participatory strategies of social practice art that organizes communities in debate and collaboration with curatorial activism approaches that challenge the assumptions and erasures of voices in hegemonic narratives to develop Common Ground: Artist Reimagining Community.
Image: Zameh Omonuwa