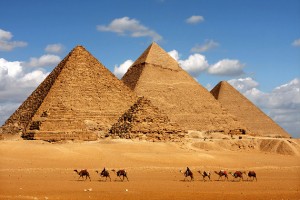 Thursday, Apr 30, 2020
1:30 pm PST
View archived lecture here, available for the duration of the Virtual Lecture Series.
Step into a time when papyrus grew along the Nile River and pyramids dotted the horizon with an illustrated and engaging online presentation. During this introduction to the art and archaeology of Ancient Egypt, we explore how pyramids were made, the process behind mummification, how the language of hieroglyphics were developed, who King Tut-Ankh-Amun really was, why the ancient Egyptians wore black eye makeup and how it relates to modern athletes, and much more. Part of a series of Ancient Egypt and Ancient Rome, all programs only require an open mind and general interest in ancient times.
For some fun, click here for a cut-out of Egyptian hieroglyphs with cartouche, courtesy of Marisa.
Marisa Horowitz-Jaffe has been teaching, studying and living ancient history for over 25 years. Her background includes double Bachelors degrees in Classical Archaeology and Egyptology from The University of Michigan, and a Master's degree from Harvard University in Art and Museum Education. She spent two decades working in elite NYC art museum education departments, and ­­­­now enjoys bringing her own artifacts and mobile museum to teach enrichment programs in schools, libraries and community groups. She also offers private VIP tours at The Metropolitan Museum of Art, please visit www.MuseumsWithMarisa.com for more information.
This talk is part our COVID-19 response lecture series. Since no one can travel, we're bringing stunning art from worldwide locations to your family at home. These lectures are hosted by experts the world (and US) over, from Australia to New Delhi and Los Angeles to New Jersey. The times are all listed in Pacific Time (PDT) as the university is based in California. The Zoom links will be posted to each webpage the day before the lecture starts, so please note the dates and times in your calendar and check back. Please feel free to direct any questions to rollandgallery@callutheran.edu.