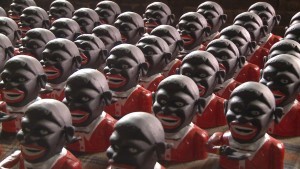 Wednesday, Oct 21, 2020 - Thursday, Dec 31, 2020
12:00 pm PDT
In conjunction with the panel discussion "Why is Aunt Jemima Retiring?: Black Caricature as Mnemonic Device," we're offering free, on-demand screening of the film Black Memorabilia (2019) by Chico Colvard.
Black Memorabilia explores the world of racist material, both antique and newly produced, that propagate demeaning representations of African Americans. From industrial China to the rural South to Brooklyn, the film shines a light on those who reproduce, consume and reclaim racially-charged items, from banks to Mammy kitchenware, confederate flags, Nazi insignia and other ephemera. To see a trailer of the 55 minute film, click here. To request your free access code, please click here.
Funding for access to this film was provided by Cal Lutheran Center for Cultural Engagement and Inclusion and the Pearson Library.
Image courtesy of C-Line Films.