November 25, 2020
Throughout Dr. Daralee Barbera's life she has had many influences to help guide her to where she is today. Her parents were one of those influences as from a young age they encouraged her and her siblings by telling them they could do or be anything. Gender-related jobs did not exist in their world resulting in Barbera growing up with no recommendations for a gender-based life. 
Achieving goals is something Barbera is passionate about helping others achieve.  "My siblings and I were encouraged to follow our heart and pursue the things that were of interest to us with total support," Barbera said. Her father was a mechanical engineer and her mother was a homemaker raising four children. By chance all four of the siblings later went into the finance industry. Now, three of them are financial advisors and one is a tax and estate planning attorney.  
Barbera has spent 34 years working in the financial planning industry. She spent four years working as an advisor and 30 years as a managing principal at a comprehensive financial planning company that develops relationships with clients. Her role as manager was responsible for all the financial advisors. Today she is retired with a doctorate in leadership and organizational change and is involved with financial services leadership as well as an adjunct professor at California Lutheran University. 
Working with Others 
Barbera's specialty is the comprehensive financial planning process. Her work is a client-centric perspective looking at all the assets. It covers a variety of topics from investments, wealth management, advisory programs, securities, comprehensive, insurance, and more.  She worked with the employees and employers as well as the individuals and families. She was responsible for the business of running the financial planning operations of all positions in multiple locations with a multitude of layers of leadership; recruiting, selecting, and training. 
Before Barbera worked in the financial planning industry she was a math teacher. It was during this time she worked with a financial planner. "It changed the way I looked at life," she said. After this experience, Barbera wanted to get a license to train to help family and friends. "Everyone should have a financial plan, it is so important to have a plan for your life that is on purpose," explained Barbera. She went on to say that it doesn't matter how much you do or don't have, but it's a very delicate calculation and a super important one.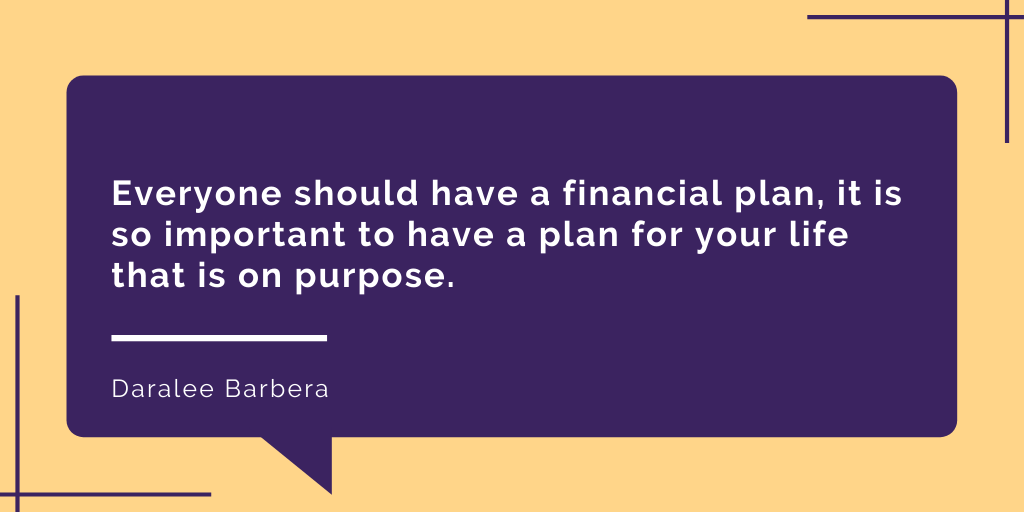 The Importance of Communication 
Barbera teaches two classes at California Lutheran University; MFP 535 Psychological and Cultural Dynamics of Communication and Persuasion, and MFP 536 Social Psychology of Client Leadership. Although the courses are to earn a Financial Planning degree Barbera said, "Communication is so critical between the clients of financial advisors and the leadership role that the financial advisors take clients lives."
A Career of Teaching 
From being a math teacher to working in financial planning, to teaching financial planning Barbera has not stopped teaching throughout her career. "My whole career in financial planning was about teaching. Every client I look at like a student and it was my privilege and responsibility to help educate them as much as possible to make informed qualified decisions in their life," she said. She wants to help others be well informed and to understand financial planning.
With a career surrounding teaching, it is no surprise that Barbera enjoys it and the act of helping others. She likes seeing students in the classroom or a client realize something new about themselves and apply the knowledge to others. "It's the domino effect of teaching and learning. The power and opportunity for tremendous impact to change so many lives forever," she said. It's also the act of applying information forward to others, she explained. 
Her favorite part of teaching is being part of a student's academic journey and helping encourage it. Barbera thinks of her role as the person of responsibility to create a new frame for the students to look through. She then adds or recreates an old topic into a new topic to learn about. From here "aha moments" develop and that is what makes teaching for Barbera such an enjoyable experience. 
"We are life in motion. Seeing the professionals (students) come together and be interested in their own self-awareness to help their clients is what makes teaching worthwhile," Barbera said.  
Helping Others Accomplish Their Goals 
Barbera's passion is to help others and make things better. "Helping people set and accomplish goals to go down a path that may not have previously thought they could," she said. So much so that Barbera has written a book called What You Can Do… When You Can't: Twenty-One Days to Personal Success. It's about looking for the positives and how to be motivated to propel us forward, she explained. As well as having a passion to find the positive and help other people accomplish their goals. 
Barbera describes her teaching style to be influenced by thinking of herself as a facilitator. "It's to be able to facilitate to bring the students to the table, to challenge, to self-reflect, to figure out how to approach the content and how it applies to themselves. Where are they? Where are they going? How will they use it in the future?" 
Being a Good Professor and Student
A good professor is "Someone who contributes to the academic body of knowledge for their topic," Barbera said. They bring a new life to teaching by being a guide and helping the students create their own curiosity. Circling back to paying it forward and inspiring other students to hand on the information and knowledge.
A good student is someone who allocates time to do the work and has trust in the school and curriculum explained Barbera. Curriculums to earn a degree can be daunting and overwhelming but the student must trust they will be guided step by step. "Don't be daunted looking at the whole forest, take it one tree at a time and we will come to the other end," she said. 
Professors Seeing Something in a Student
Aside from Barbera's parents, her other inspiration were three teachers. When in school, Barbera stuttered so she decided to go to a speech and debate teacher to learn how to stop stuttering. This decision came after she decided to be a math teacher. Her speech and debate teacher signed her up for competitions and a graduation speech. "That changed my life forever. She saw something. She saw that I could do it," Barbera said. 
Other teachers that inspired her were her high school and college math teachers. Both encouraged her to get a degree in math and pursue the subject. All three of the teachers saw something in their student, Barbera, and encouraged her. This is something Barbera has taken to heart and pays forward with her students today. 
Looking at the Positive
When she isn't working or teaching or writing a book, Barbera enjoys creating new things, spending time with her large family, and traveling all over the world. "I am always looking for growth, positive, new things," she said. 
The interview ended with Barbera sharing her thoughts and perspective on working at California Lutheran University. "I have different frames of reference and the ability to compare to other universities. From the professors to the students, to the care that comes through every email that I see, the care of Cal Lutheran for the students and the community is really exceptional. I think it's outstanding," she said. 
About Daralee Barbera: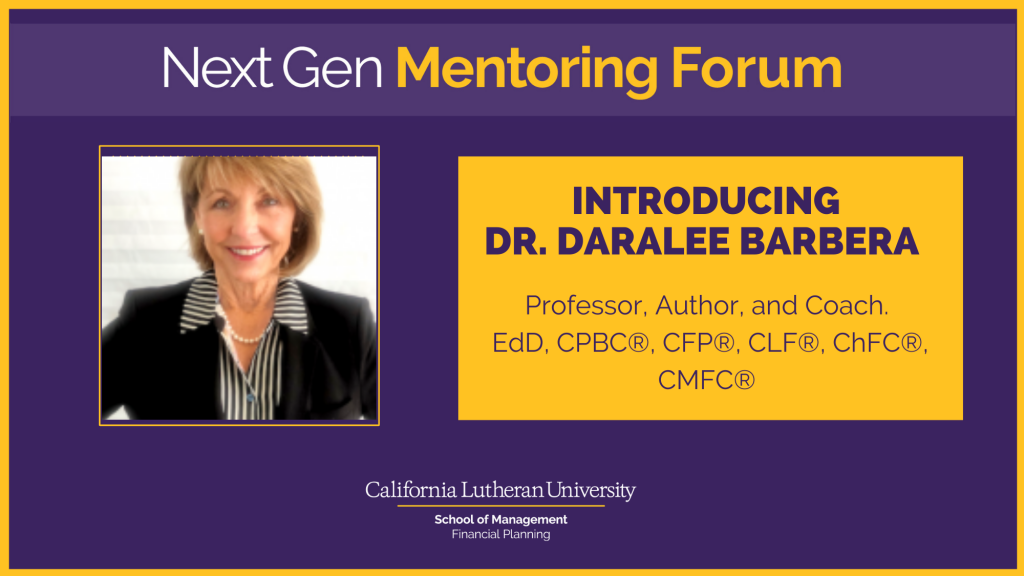 Dr. Daralee Barbera is a professor, professional business coach, consultant, speaker, and author with an EdD in Leadership and Organizational Change from the University of Southern California. She is President of Diversified Professional Coaching LLC, is the former EVP of Business Development and VP of Strategic Initiatives at GAMA International, and retired as Managing Principal at Waddell & Reed where she spent 34 years. Daralee has written two books; Women Matter: The Why and How of Gender Diversity in Financial Services and What You Can Do When You Can't: 21 Days to Personal Success, as well as her dissertation, Financial Literacy for Women and the Role of Financial Education: An Exploratory Study of Promising Practices.
About the Author:
Rosie Baker is an undergraduate student at California Lutheran University, graduating in May 2021. She is studying Communication with an emphasis in PR and Advertising and has a minor in Creative Writing. In July 2020, she published her first book, Mirrors & Windows: Unlocking a New Framework to Envision Your Success, with New Degree Press.