November 12, 2020
When Kris Etter was young his dream job was to be a major league baseball player. However, after an injury, he could no longer pursue it and needed to switch careers. While he may no longer be hitting home runs on the field, now as a financial planner he spends his time helping others plan their home runs.
Etter graduated from Austin College in Sherman Texas with a degree in Business Administration. During his senior year, he completed an internship at A.G. Edwards where he was introduced to the world of financial services, there he learned the newer advisors made the majority of their income through insurance commissions to help build their practice. After graduating he started at Northwestern Mutual as a registered representative and later moved to an independent broker-dealer where he practiced holistic financial planning for a number of years and earned his Certified Financial Planner (CFP ®), Charted Financial Consultant (ChFC ®), Retirement Income Certified Professional (RICP ®) before starting his own Registered Investment Advisory firm (RIA). 
Being a Young CFP® Professional
In 2008, Etter earned his CFP® certification. He said it took the burden of proof off of him since he did not have any grey hair…yet. As a young person in the industry, the credentials demonstrated experience, knowledge, and understanding of the complexities in financial planning explained Etter. 
When he decided to earn an MBA in Financial Planning, Etter already had his CFP® certification. His deciding thought behind choosing the California Lutheran University MBA in Financial Planning was because it was "leaps and bounds ahead of everybody else doing it interactively online." This program has accountability as you don't complete it at your own pace and you have live interaction with other fellow grad students he explained. "It went hand in hand in helping me truly manage my practice versus just focusing on the numbers," Etter said. 

To the Future 
Etter loves his job and considers it his dream job. It allows him the flexibility to manage his own schedule balancing family, work, and now school. "I get to do what I want when I want, and at the end of the day I get the satisfaction of knowing I helped people and have no regrets in the way I helped them," Etter said. In five years time, Etter would like to have a junior planner doing the work he currently does and additional staff for support. In ten years time, he would like to have a partner or multiple juniors, and possibly even acquire some firms to expand his practice. 
Taking the Program Outside of the Classroom
"Right off the bat it pointed out how many holes I had in my practice," Etter said. The Financial Planning Program has been extremely valuable to Etter to teach him what he could be doing more efficiently and how to improve his clients experience. It taught him to "Leverage my time, technology, and staff which ultimately allows me to put more money into the company to give clients a best in class experience," he said. 
The experience in the program has been a multitude of emotions. "It's been great, frustrating, rewarding, it's everything you need and more, it pushes you," Etter said. Part of taking a course like this is it makes you study and learn how to manage your time being a student all over again. This is not a "pay for paper" program. Whether you want to earn a Ph.D., grow your practice, earn your CFP® certification, or just learn about financial planning, Cal Lu is the place for you, Etter said. 
The highlight of the program for Etter was working and interacting with the other professionals as well as the professors who he said "bend over backward for you to help out" have been amazing. Close relationships that are built with other students and professors due to small class sizes are the "things you can take away beyond the program."
"I would recommend this program if you're interested in growing a practice. The CFP® exam is just a bonus that comes with this program. For those that already have the CFP® certification, you have to take this class and learn how to grow your practice and do your own thing your way. I promise it doesn't matter how successful you are, you can always improve," Etter said.  
Free Time
During his free time, Etter enjoys being active and outside with his family. He likes to do Orange Theory Fitness, golf, and scuba dive with his wife. He plans to return to some of his favorite locations and go to new ones after the pandemic, locations such as Hawaii, Grand Cayman, and Australia. He also enjoys reading when he has the time. 
Biggest Influences in Etter's Life 
There have been two big influences in Etter's life. The first being his father – a successful entrepreneur with a lifetime of experience in several business ventures. He helped him throughout college offering advice and mentorship while taking business classes. Another big influence in his life are his fraternity brothers. They are a strong support system for each member and together they took pride in holding the highest GPAs on campus, not that Etter had a lot to do with that he joked. 
About Kris Etter: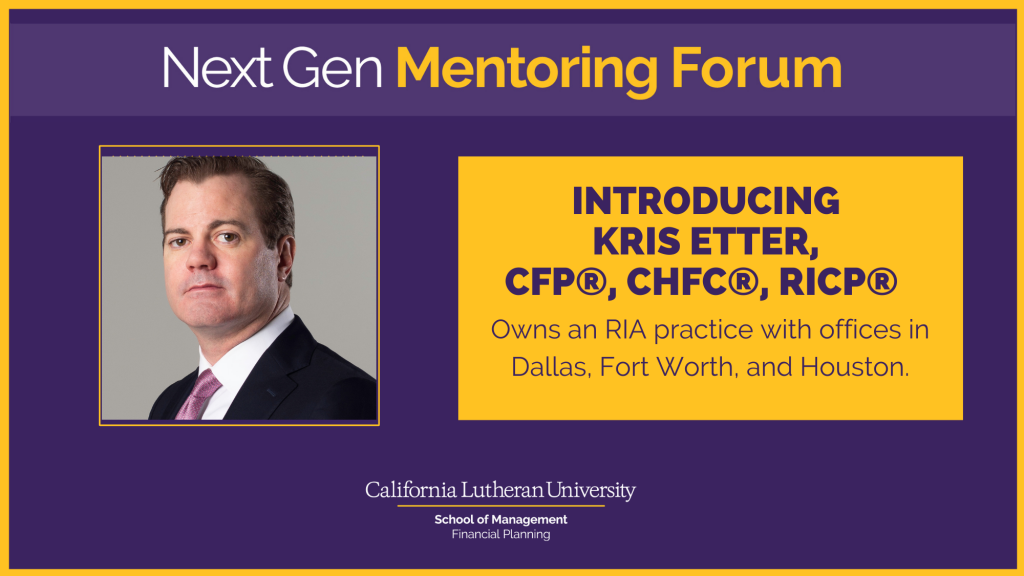 Kris has an undergraduate degree in Business Administration from Austin College, Sherman Texas. In 2008 he earned his CFP® certification and is a candidate to earn his MBA in Financial Planning from California Lutheran University in December 2021. He has almost 20 years of experience in financial planning in both insurance and investments. Now, he owns an RIA practice with offices in Dallas, Fort Worth, and Houston in Texas where he lives with his wife and son. 
About the Author:
Rosie Baker is an undergraduate student at California Lutheran University, graduating in May 2021. She is studying Communication with an emphasis in PR and Advertising and has a minor in Creative Writing. In July 2020, she published her first book, Mirrors & Windows: Unlocking a New Framework to Envision Your Success, with New Degree Press.