May 28. 2020
For Zach Bullard, baseball and sport have been an important part of his life since he was four or five years old. Not only does he love playing baseball, but it has influenced his dream job; to be a financial planner for baseball players and run his own financial planning firm.
When Bullard was younger his dad used to work in insurance. He would spend time with him in the office watching everything that he did. He enjoyed it and learned about his dad's job from a first-hand point of view. Bullard was impressed with the job and his dad's ability to connect with his clients both inside and out of the office. So much so it inspired him to have a similar job when he grew up.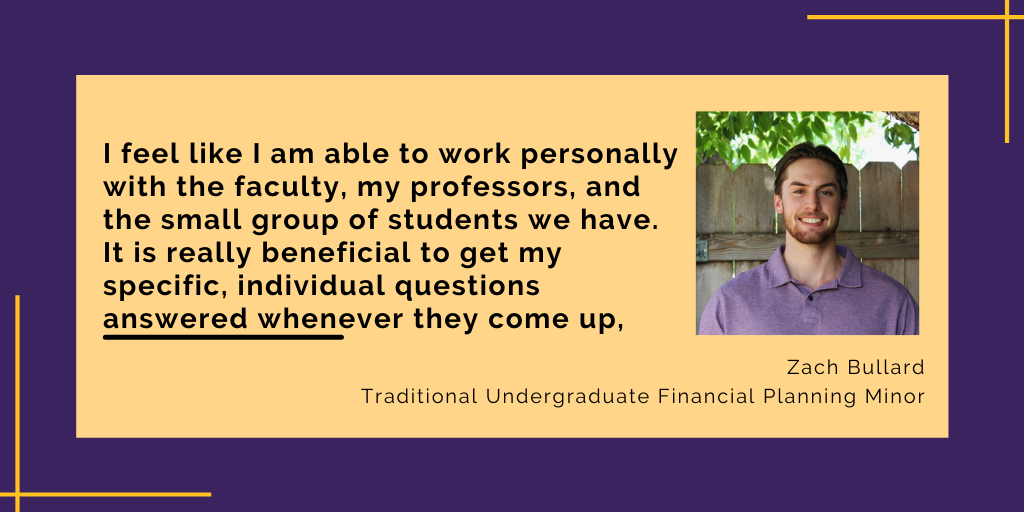 Working in Financial Planning 
When Bullard came to California Lutheran University he was an undeclared major. After doing a summer internship he noticed that many of the employees had an economic major paired with a financial planning minor. What's more, having an economics major and a financial planning minor is an attractive combination credit-wise compared to being a business administration major.  
After Bullard has finished his undergraduate degree he is thinking of participating in the 4+1 Program California Lutheran University offers to its enrolled undergraduate students. This program allows undergraduates to start their master's degree before they've graduated. Currently unsure of the specific MBA he will pursue, Bullard is sure that it will be financial-based. After pursuing his MBA, Bullard wants to move into the workplace and have a full-time job. 
"I feel like I am able to work personally with the faculty, my professors, and even work personally with the small group of students we have. It is really beneficial to get my specific, individual questions answered whenever they come up," Bullard said when asked about the financial planning minor values.
Bullard is really interested in the connection side of working in financial planning. He wants to work with athletes, in particular baseball athletes, building relationships and helping them. Bullard was not sure of what specific niche to go in until he spoke to Dr. Chia-Li Chien. Often when students speak to program directors they learn more about potential career niches. 
What's more, often the career a student will have the seed is planted early in someone's life like with Bullard's dad. The relationship his dad built with his clients meant that he was someone they could rely on and it inspired him. "It was never an exact moment or people ever really pushing me into financial planning, I felt like a lot of the values fit with what I was looking for in a job and it planned out," Bullard said. 
Talking to Others About Financial Planning 
Bullard has been recommending the financial planning minor to his fellow baseball team players, "I think if you  have room in your schedule [I think] a lot of the intro-level classes are super beneficial just for your own personal finances and your own personal life." 
I think it is so important to talk to others about your major and minor, just like Bullard did with his baseball teammates because you never know what you may learn from them and vice versa. When you talk to friends and other students you can learn so much from them and even explore potential career opportunities.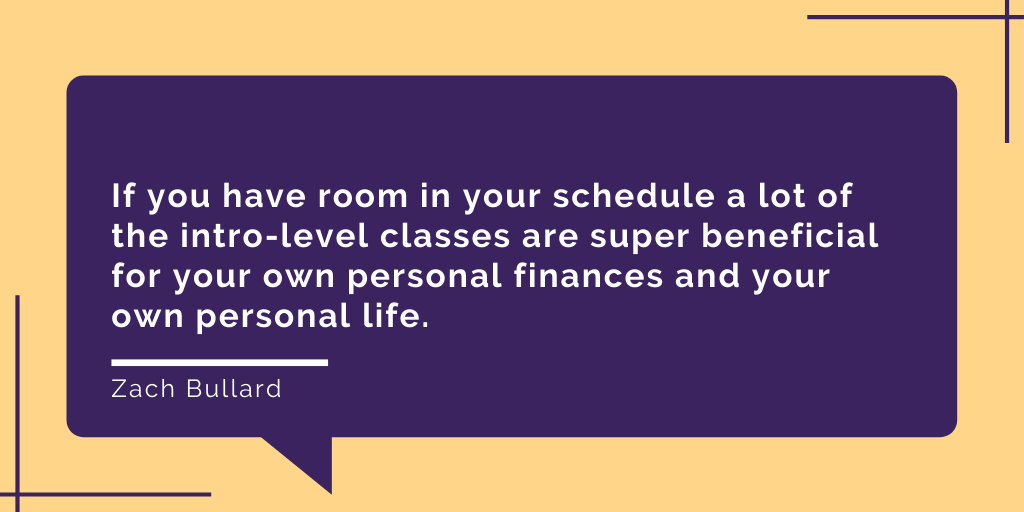 Once people understand what the financial planning minor is Bullard says, they become interested in knowing more about it and the potential of making a career out of it. If you would like to learn more about taking the financial planning minor or the financial planning programs offered at California Lutheran University check out this YouTube video where Dr. Chien along with other professors and students speak about it. 
Financial Planning's Flexibility as a Career
One aspect of financial planning that attracts a lot of attention is the flexibility of the job. It provides a lifestyle that a standard office job does not have the ability to do so. What's more, it offers something new and exciting every day. 
"In this profession, it's really easy for you to have a balance between your personal life and your professional life. It's up to you how many clients you want to have. If you are really work-active and you want to spend 24/7 with your clients, you can have 100 clients and keep yourself busy." Dr. Salehi said. But you could also have 25 clients allowing you to work less during the week. Having a career in financial planning allows the person to have control over managing their practice and type of client relationships. 
"So far this has been a great learning experience and I feel like I have actually taken in information… I can really see how I will be putting it to use either in the job market or everything applies to the CFP®  exam and preparing use for that," Bullard said.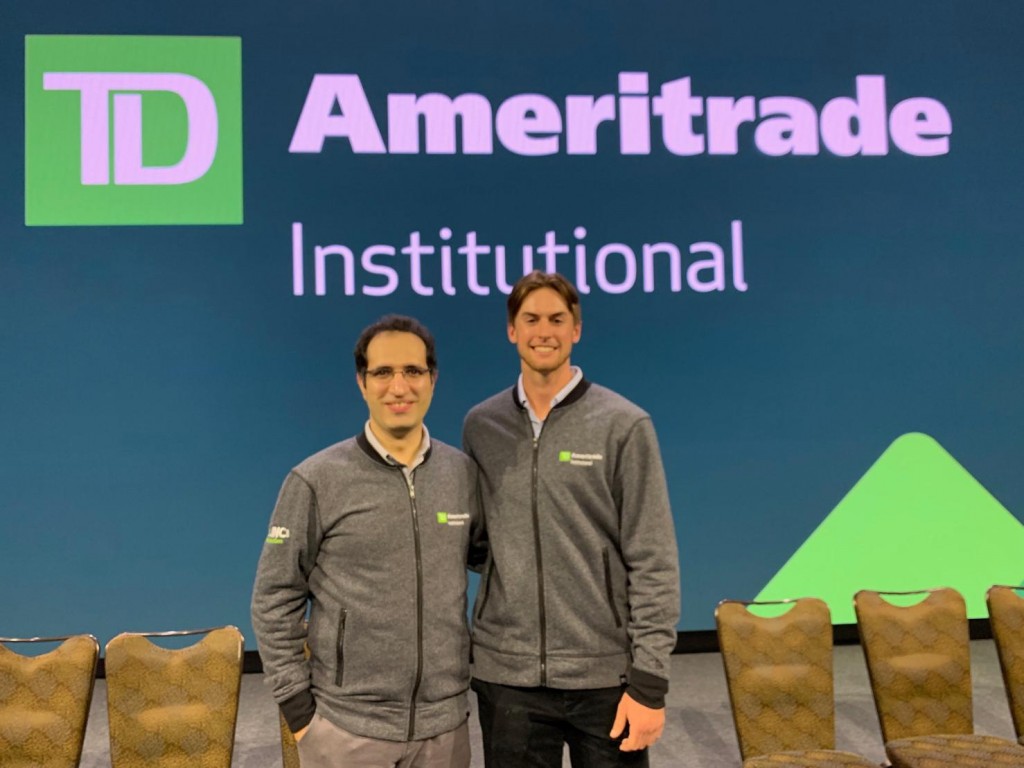 Attending a Conference
Both Dr. Salehi and Bullard attended the National LINC 2020, January 29-31, 2020 at Hytall Regency Orlando, FL. At the conference students had some "training, teaching sessions throughout the weekend learning about the industry and learning how to interact with different advisors we might need and network sessions," Bullard said. Thousands of advisors gathered and students were able to talk to them and ask about internships and jobs. To learn about opportunities like this that are available talk with your professors and advisors. Students should take advantage of these to broaden their network. 
One of the biggest takeaways Bullard had from the conference was that all of the advisors he met loved their jobs and were thankful to be in the industry. It is something that has stuck with him since that weekend and has left a lasting impact. Bullard is very grateful to Dr. Salehi to have the opportunity to attend the conference. 
One of the most important parts of Bullard's California Lutheran University experience has been his friends, the baseball team he is part of, and the small class sizes that are offered. His friends and the baseball team have been his influences to work hard. When Bullard isn't working or playing baseball, he enjoys playing pick up a basketball and likes to be outside at the beach or hiking. 
About the Interviewee:
Zach Bullard is a traditional undergraduate student pursuing a Bachelor's in Economics with a minor in Financial Planning. He is on the baseball team at the university. 
About Dr. Chia-Li Chien:
Dr. Chia-Li Chien is an Assistant Professor and Director of the Financial Planning Program of California Lutheran University and a Succession Program Director at the Value GrowthInstitute. Dr. Chien is a frequent speaker about succession and retirement planning at national conferences and has published three books, including her most recent publication, "Enhancing Retirement Success Rates in the United States." She is a national Board of Director of Women in Insurance & Financial Services Association. She can be reached at jolly@chialichien.com.
About Dr. Salehi:
Dr. Houssein Salehi is an assistant professor in Financial Planning. He has a doctorate in personal financial planning and is a Certified Financial Planner (CFP®). He also has an M.Sc. in Personal Financial Planning from Texas Tech University, an M.A. in Economics from Texas Tech University, and an M.Sc. in Financial Management from Tehran University. 
About the Author:
Rosie Baker is an undergraduate student at California Lutheran University expecting to graduate in May 2021. She is studying Communication with an emphasis in PR and Advertising and has a minor in Creative Writing. She is currently writing a book, Windows and Mirrors, which is due to be published this summer with New Degree Press.