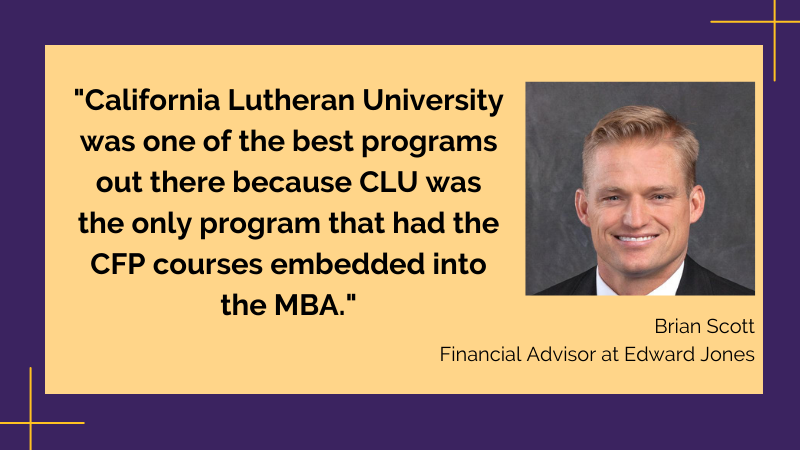 Brian Scott's passion is to work with women clients & finance after he completes his education at California Lutheran University. Before studying for his MBA in Financial Planning, Scott joined the Marine Corps and served as a Pilot for the United States of America. After graduating from California Lutheran University, he plans to partner with an RIA in Arizona or start his own independent business.
After serving his country, Scott was unsure which career path to pursue. Although he studied biology, he knew that this career path was not his calling. While Scott was paying down debt, he participated in a financial course for families that he discovered that financial planning was his true calling. However, he was unsure how to begin his journey, so he decided to talk to a financial advisor who worked in the Marine Corp. The financial advisor provided industry knowledge, the career aspect, and which paths were available to pursue financial planning. Therefore, he decided to research which programs were accredited and counted as the education portion for the CFP requirement. Scott shared that "California Lutheran University was one of the best programs out there because CLU was the only program that had the CFP courses embedded into the MBA."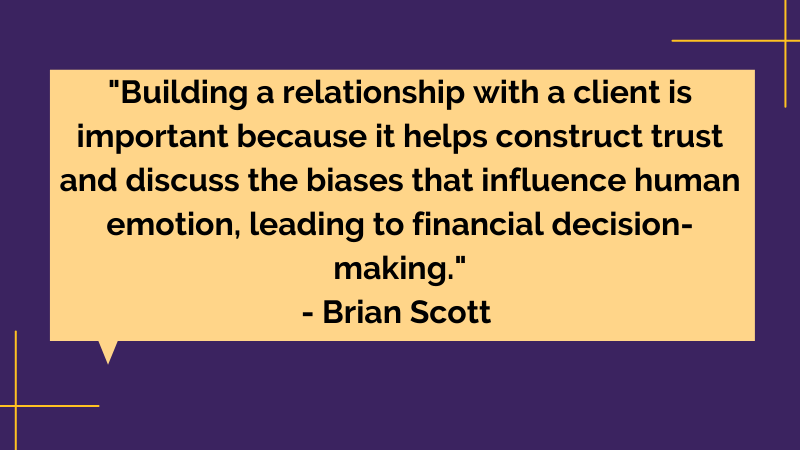 While studying for this MBA, Brian mentioned that the behavioral finance course was the most impactful for his career. Although Brian did not appreciate that relationships came first before math and planning, this course was eye-opening to change his perspective. He realized that "building a relationship with a client is important because it helps construct trust and discuss the biases that influence human emotion, leading to financial decision-making." When taking behavioral finance or any course from the Financial Planning Program, Scott's advice is to "make sure to engage with the faculty since they are a wonderful resource."
Although the MBA Financial Planning Program was challenging at times, Scott learned immensely from each course. The real value was seeing every puzzle piece come together for each class. Scott shares that "the pace was very tough especially when balancing work and family. There were times I spent the weekends studying and completing coursework. Also, I spoke with my administration person to schedule my meetings Monday – Thursday to give myself more time to study."
While serving in the Marine Corps, there were many skills any recruit could learn while serving their country. Some of the skills he learned from the Marine Corp that will help him with his career in financial planning are planning and building flexibility. Scott shares that "the Marine Corp gave me several assignments that involved writing detailed plans that my team and I would share with our general." Writing detailed plans for clients will come in handy because financial advisors must prepare clear deliverables when presenting to clients. Creating flexibility was another skill he learned in the Marine Corp that came in handy when balancing his life between school, work, and his family.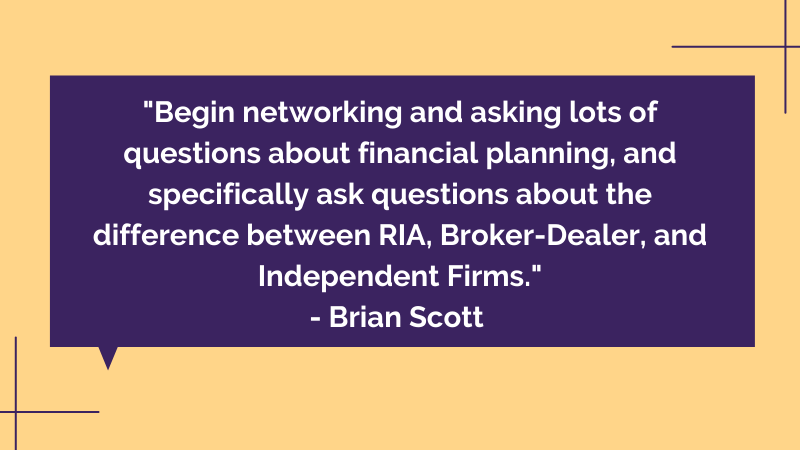 The final piece of advice Scott offers to students is "to network and ask lots of questions about financial planning, and specifically ask questions about the difference between RIA, Broker-Dealer, and Independent Firms." 
About Brian Scott: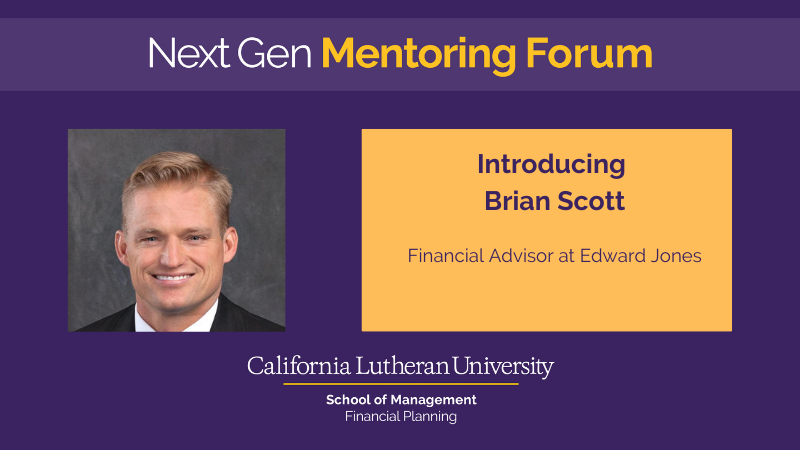 Brian Scott is a student who will soon graduate from California Lutheran University with his MBA in Financial Planning. He plans to start his independent firm or partner with an RIA after graduation. Before deciding his career path, he served as a pilot for the Marine Corps and studied biology.
About the Author: 
Rafael Nieves Rios is a graduate student at California Lutheran University, graduating in 2024. He is studying for an MBA in Financial Planning.