June 14, 2021
Tamika Moye has spent her whole life moving around the world living in different countries and cultures. This is one reason she chose California Lutheran University to earn her MBA in Financial Planning as it allows her to participate from Germany and still fulfill her passion for traveling COVID-19 permitting.
Growing up in various countries, Moye learned to love languages, speaking both German and English. Straight out of high school she worked in the military for 11 years as a linguist in Farsi and Spanish. Her love for learning translated into her education and career. Moye studied for her undergraduate degree in business administration at the University of Maryland, later completing her MBA in Financial Planning at California Lutheran University in 2009 for the purpose of self-education not thinking that one day she would pursue a career in financial planning.
Discovering Financial Planning 
For the past 11 years, Moye has worked for the U.S. government and is currently a program manager in Germany. At the time of preparing to leave the military, Moye wanted to discover what part of the business she enjoyed the most to pursue as a career. "How are you managing your money and why are you managing money the way you are?" she said was the questions that sparked her interest. She wanted to learn more about the process of financial decisions but still include the financing aspect from her previous knowledge, which is why she chose California Lutheran University's financial planning program. 
Moye enjoyed the financial planning program so much, she decided to take advanced financial planning courses at California Lutheran University. When the interview took place, she had completed two extra classes in the program, including the research class and behavioral science class. "The behavioral science class introduced me to the psychology of money. It asks questions like why do I think about money in this way? Why do I have an attitude? Why do I make emotional decisions? I've really enjoyed the program so far!" she said. 
Moye's Future
In a couple of years, Moye wants to retire and pursue a new career as a financial counselor. "Essentially it's taking a behavioral finance mindset in approaching attitude, money-relationship, and money-imprinting and how it impacts your financial decision making," she explained. Being a financial counselor involves more of a psychological approach to financial decision-making. It's about looking at interactions and finding ways to improve to be more aware and make better decisions with finances, she explained further.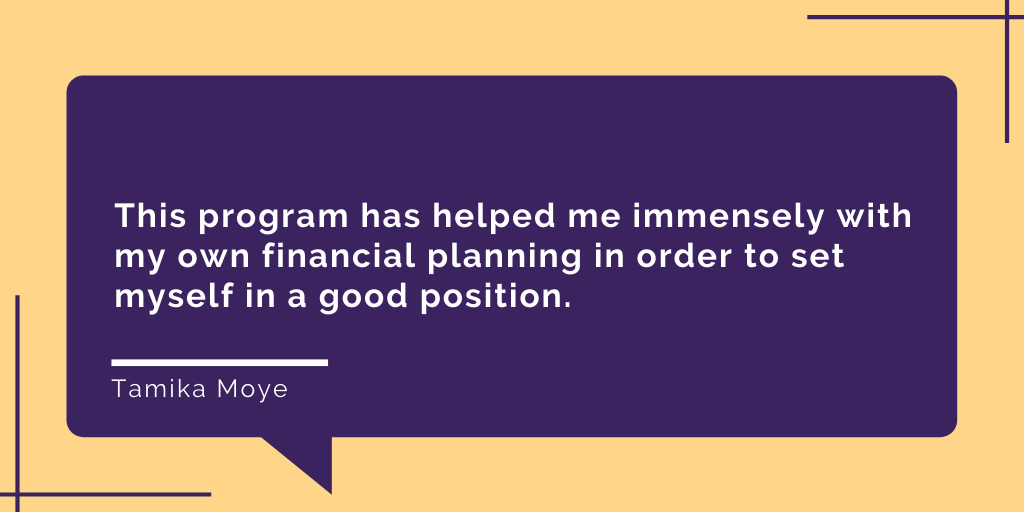 "This program has helped me immensely with my own financial planning in order to set myself in a good position. I'm going to retire at 45. It enables me to have a third career if I want to but I still have time to go out and enjoy life as an individual," Moye said. 
In the next two years, Moye wants to retire from civil service and take a sabbatical for the few following years, "I want to do some altruistic volunteering and then I'll probably start a new career at some point," she said. 
Advice to Others
Moye's advice to others who are thinking about the program is to approach it with an open mind. "It's not like any other program I've ever done because of that explorational learning piece. There are multiple levels of application versus just asking what you do with the information," she said. Both of the courses she has taken are her highlights within the program so far, "they helped me gain an understanding and learn more about myself," Moye explained. 
Growing up in a versatile childhood, forever having changing scenery and new faces, Moye said the experience gave her the exposure she needed to know what she didn't want to do, despite being unsure about exactly what she did want to do. Also, her supervisors helped broaden her vision, "they always opened my eyes to additional opportunities for both personal and professional growth and wellness," she said. Much like trying new classes and learning new subjects that Moye has been exposed to at California Lutheran University. Without taking the behavioral science class, Moye noted she would not have necessarily found her interest in wanting to be a financial counselor versus a financial planner. 
About Tamika Moye: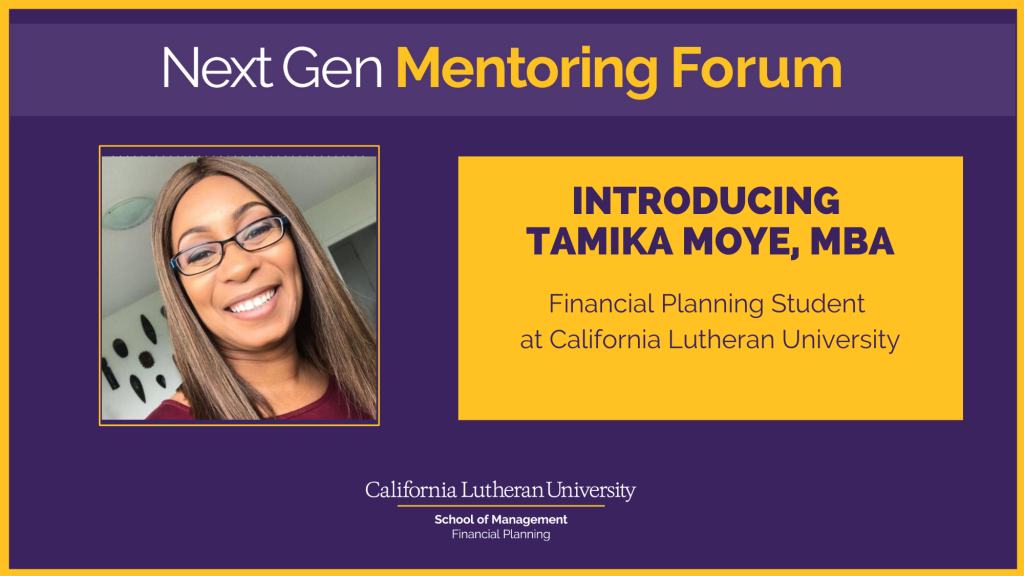 Tamika Moye graduated from Maryland University with a degree in Business Administration. She spent 11 years working in the military and another 11 years working in the U.S. government. She also has an MBA in Financial Planning from California Lutheran University. 
About the Author:
Rosie Baker graduated Magna Cum Laude from California Lutheran University in May 2021 with honors and departmental distinction. Her bachelor's degree is in Communication emphasizing in PR and Advertising, minoring in Creative Writing. In July 2020, she published her first book, Mirrors & Windows: Unlocking a New Framework to Envision Your Success, with New Degree Press.