August 5, 2021
Professor William (Bill) Klepper started his career in teaching by "picking up the phone." His employer, Bill Mason, asked him one day if he would be interested in teaching. Having thought about the idea of it previously, Klepper enthusiastically replied with a yes. When interviewing for the job, one of the questions they asked was if he had his CFP ®, which he did, however unknowingly to the employer he only had it for a mere two weeks! "I was in the classroom within three weeks. I absolutely loved it and I never looked back," Klepper said.  
Klepper's passion in financial planning is money management and his specialty is retirement planning. "I like getting people set up properly so they don't have those devastating down periods. I want to see people protect their assets," he said.
Teaching At California Lutheran University
At California Lutheran University, Klepper currently teaches the undergraduate wealth management class, a class where many of the students become financial planners, "there's a great need for financial planners and there's not many going into it. It's a great career," he said. Klepper also teaches the financial literacy class, a recent course worth one credit that teaches the topics of insurance, investment, car loans, and credit reports to undergraduates to a variety of majors. "You're telling them topics that nobody ever teaches that they're dying to know," he said.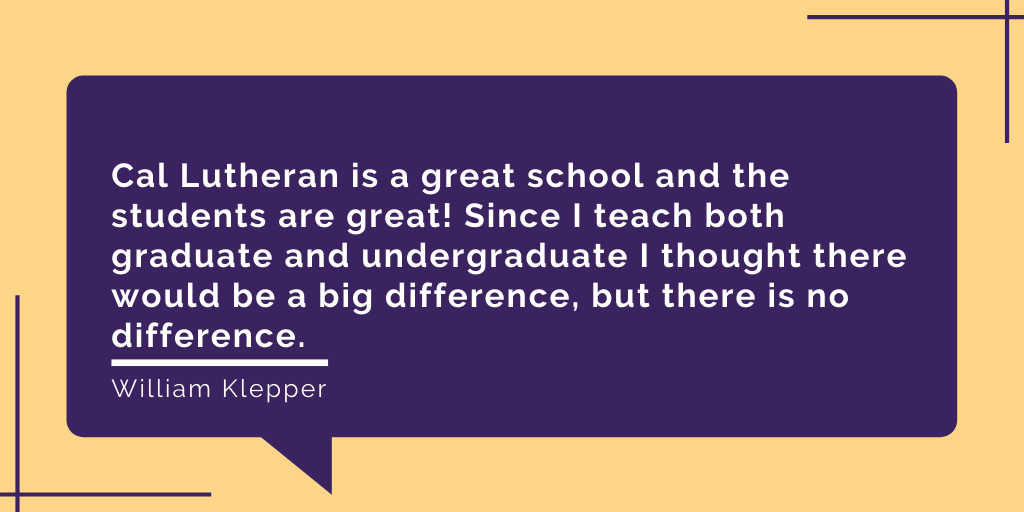 During his classes, Klepper enjoys bringing real-life examples to help communicate the material.
"I teach 'war stories'. My students love the war stories of hearing what is happening in real life. The biggest thing with teaching is people remember stories. If you tell a story they will remember but not a data dump," he explained. His aim in the classroom is to create a relaxed, no fear, no-pressure environment so students feel comfortable to ask any questions.  "Cal Lutheran is a great school and the students are great! Since I teach both graduate and undergraduate I thought there would be a big difference, but there is no difference," he said.
Making the Classroom a Fun Environment 
Teaching isn't just a job to Professor Klepper, but an enjoyment. "The interaction with students is a lot of fun. It's not working. I enjoy the students and I want to make sure that they learn," he said. His priorities in the classroom are to make sure the student has an understanding of the material while creating a good learning environment.
"I think the best professors are the ones that interact with the students and they're not just speaking on the topic. It's the ones that actually make sure the students learn, that is a good teacher," he said. On the other hand, Klepper believes that a good student is one with a sense of humor and intrigue to ask questions, "that makes the class fun," he said. 
The Long-Term Connections as a Professor
One of the most rewarding parts of teaching for Klepper is hearing from his students after class has finished. He enjoys hearing the "thank you's" and receiving messages, but "I'm shocked how many students become friends. I always tell them just because the class ends you can still ask me anything," Klepper said. Further, Klepper's favorite part of teaching is watching the "lightbulb go off" after explaining the various concepts to the students. 
Good Times and Cooking!
In his free time, he enjoys hosting dinners for his friends from ten various barbecues he owns in his backyard. "I'm a smoker! I smoke meat and I have ten barbecues!" he said. Every Sunday night for the last 25 years, Klepper has had between 6 and 16 people over for dinner. Community and friends are very important to him, as well as cooking and entertaining.  
About William Klepper: 
William F. Klepper has served over 30 years in the financial industry. He is currently employed by RNC Genter Capital Management as Senior Vice-President Regional Director. He has worked for Union Bank of California, Wilshire Associates, Imperial Trust Company and Wm. Mason & Company, Inc.. He has worked in all aspects of the financial field (Marketing, Management, Administration and Trading). William is President of the Rotary Club of Simi Sunrise 2020-21, Past President of the Simi Valley Police Foundation and current board member, and is on the Ventura County Fire Protection Board.
About the Author: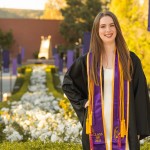 Rosie Baker graduated Magna Cum Laude from California Lutheran University in May 2021 with honors and departmental distinction. Her bachelor's degree is in Communication emphasizing in PR and Advertising, minoring in Creative Writing. In July 2020, she published her first book, Mirrors & Windows: Unlocking a New Framework to Envision Your Success, with New Degree Press.