September 2, 2021
When Andrew Martz was an undergraduate at Stevens Institute of Technology in New Jersey, he was also an athlete swimmer. Any time he wasn't swimming or training, he was studying for his degree in Business and Technology. Swimming is an individual sport, Martz explained, but it is scored as a team. Martz said it is similar to working in financial services as you have individual clients, but you are a part of a bigger team. Over the years, he has taken these principles of dedication to a craft and he continues to live by them today. 
Finding His Career Path
In 2017, Martz founded WIS Advisors Inc. a boutique wealth management financial planning firm that is associated with a larger broker-dealer RIA International Securities. He has offices located in LA, Denver, and Dallas. When searching for a CFP® program, Martz found California Lutheran University who meets the CFP® education requirements and students can earn an MBA at the same time. "I started this journey in pursuit of a CFP® and looked at all the certificate programs. I knew somebody who went through the program and had a lot of good things to say about it," he said.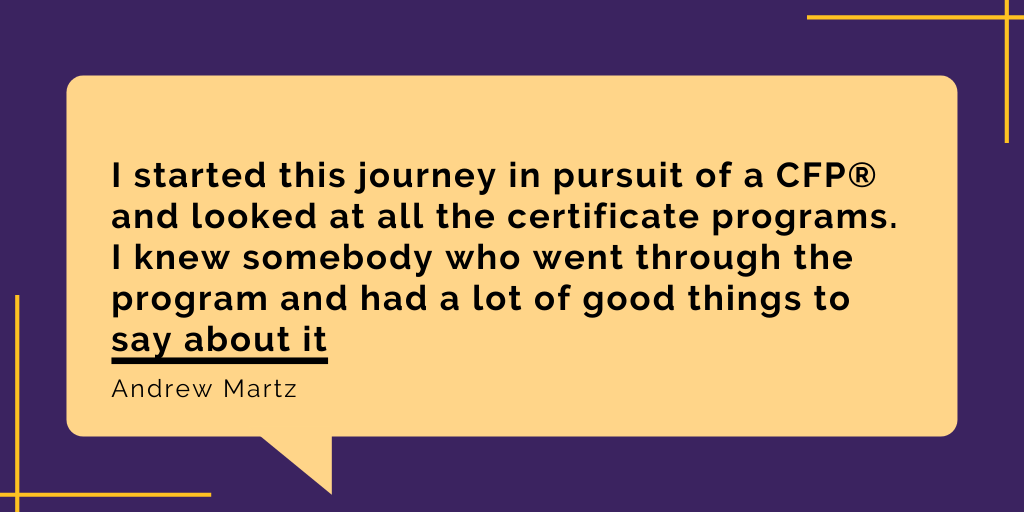 Born and raised in New York, Martz started his career in investment banking on Wall Street. After working there for three years, he discovered he didn't enjoy the high-pressure sales environment so in 2008, the year of the financial crisis, he joined JP Morgan.  Taking the opportunity to become an advisor at their private client group, he moved to Los Angeles. During the time, Martz said he was 24 years old and one of the youngest advisors with JP Morgan in California.
In a matter of "right time, right place" Martz found himself working in Hollywood and attracted a pretty big client demographic in the sports and entertainment world. In 2017, after a shift in the industry, Martz left his job and partnered with Western International to create his own firm. Working on Sunset Boulevard in the heart of Los Angeles, Martz fulfills his passion for working with people every day. "We like to say that we are the nexus of finance and lifestyle in the sports and entertainment industry," he said. "Understanding that money is not the most important thing to most people, money just fuels power, people, places and things which are the most important to most people."
The Importance of a CFP®
Another reason Martz pursued earning a CFP® certification was that he wanted the firm to be the best it could be. "I knew by having both real-world experience and an academic background to understand all the nuts and bolts are critically important," he said. "If you have the vision of being an independent practitioner or building your own business, California Lutheran University MBA program in financial planning is an absolutely essential part of that journey to have the education, the background, and the network of people who are like-minded," he said. 
As the financial planning industry evolves, Martz believes that the standards and expectations of those working in the industry are evolving too. "I believe the CFP® is quickly becoming the gold standard in the financial planning industry. In my opinion, the financial services industry is demanding more professionalism and the CFP® is a basic requirement for entrance into that profession," he said. California Lutheran University allowed him to gain both academic and real-life experience. "California Lutheran University is a place where I can get practical experience for what I need for a CFP® but also insight into launching a firm, management experience, marketing, and operational pieces I'm going to need," Martz said. 
Learning From Real-Life Examples
One of Martz's most valuable experiences in the program was the relationships and collaborations with his peers and the faculty. "One of the things I love about the program that I didn't necessarily anticipate is that so much of the faculty are currently in the industry in different areas," he said. As a result, the faculty brings everyday experiences to the classroom, which allowed him to implement them with his clients, he explained.  
"Dr. Chien is incredible. I took two courses with her, my capstone course was an eye-opening experience and the other class I took with her was financial planning for small businesses. Our industry is so interesting because there are so many different business models. That course really gave me a lot of clarity of what the next five to ten years are going to look like. Those courses by far had the biggest impact on my career and my life and translating how to deal with people," Martz said.
The Future of Financial Planning 
In five to ten years' time, Martz wants to see a lot of growth within his firm providing advice to as many people as they can. "We want to be a small part in a big movement of trying to educate America's next generation on how to manage money well," he said. One of Martz's biggest influences is Josh Brown, a CEO of a wealth-management firm in New York. He is an inspirational leader in retail wealth management working to further the conversation of personal finance to consumers and encouraging more people to build a great understanding of wealth management and create financial independence. Martz wants to be a part of the professionals that are changing and shifting the conversation of personal financial management and what it means.  
Martz's advice to others thinking of pursuing a career in financial planning is to practice patience. After 15 years of education and experience, he believes that he now truly has developed an understanding of where his path is heading. He advises others "to fall in love with learning because there's so much to learn in this industry. You will get exposure to so many opportunities in financial planning," he said. 
Spending Time Away From Finance 
When Martz isn't working he enjoys spending time with his wife and two young children. He also enjoys fitness and being active outdoors including competing in 5K's, triathlons, and bike events. 
About Andrew Martz: 
Andrew Martz is a Los Angeles-based independent financial planner. He attended Stevens Institute of Technology in New Jersey earning a B.S. degree in Business and Technology. He started his career working on Wall Street before joining JP Morgan as a Private Client Advisor in Los Angeles. In 2017, he founded WIS Advisors Inc. working with professionals in the sports and entertainment industries. Martz has earned his MBA in Financial Planning at California Lutheran University as well as working toward his CFP®.
About the Author: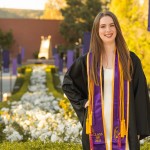 Rosie Baker graduated Magna Cum Laude from California Lutheran University in May 2021 with honors and departmental distinction. Her bachelor's degree is in Communication emphasizing PR and Advertising, minoring in Creative Writing. In July 2020, she published her first book, Mirrors & Windows: Unlocking a New Framework to Envision Your Success, with New Degree Press.