August 27, 2020
John Thiel has three passions; financial planning, deepening his knowledge, and salsa dancing. His path to being a financial advisor at Private Ocean evolved when he started university. Thiel earned his bachelor's degree in Business Administration with an emphasis in International Business at California State University of Sacramento. During this time, he spent nine months studying at Oxford Brookes University in Oxford, England. In the summer of his junior year, Thiel volunteered at a nonprofit, AIESEC, where he traveled to Columbia "to look for grants in our respective home countries that might be able to support the nonprofit."
Choosing Financial Planning as a Career
Thiel's interest in financial planning began when his parents sought a financial advisor during the 2008 financial crisis. Since then, Thiel has had open conversations between his parents and himself about finances and was able to sit-in on the meetings. The meetings allowed Thiel to have first-hand experience of watching a wealth manager and learn about financial planning. "I really enjoyed sitting and listening to those conversations, learning about investments, and how to manage portfolios. I think that was always something that inspired me in the back of my head. By the end of my undergraduate degree, I was torn between wanting to continue in financial services or go seek out international business," Thiel said. After completing his internship during his senior year at a large insurance company, Northwestern Mutual, Thiel realized he liked the idea of meeting with people and helping them find solutions to financial issues. 
After graduating, Thiel spent more time working in the insurance industry. "I was enjoying that work, but I really wanted to expand what I was able to do," he said. Thiel moved on to join an independent financial planning firm in Sacramento, where he worked for three years. "It was a lot of changes, but it was the engagement that I got to have with clients and offering that full-scale financial planning," he said. Since the beginning of 2019, he has been working as a financial advisor at Private Ocean in San Rafael, CA.
Choosing the Right MBA Program
After some encouragement from his greatest influence, his father, who advocates, supports, and motivates his endeavors to continue higher education, Thiel agreed and sought a master's degree that would also satisfy the educational prerequisites required to sit for the Certified Financial Planning (CFP®) exam. 
"The reason I chose Cal Lutheran is that it had a really great mix of the few things that I was looking for. It gave me a master's degree with my CFP® certification. The other reason was the program is an MBA, which was more attractive to me. It is also very accommodating for working professionals," he said. 
The Importance of Earning a CFP
®

Designation

Another driving force behind becoming a CFP® professional was that Thiel wanted "to learn more about financial planning to have some more foundational knowledge." He regularly listens to two podcasts XYPN Live by Alan Moore and the Advisor Success Podcast by Michael Kitces. Both podcasts are huge advocates about getting the CFP® designation to promote yourself as you continue to deepen your learning, and it will create more career opportunities, Thiel said. 

"Studying financial planning helps build the right foundational understanding. What that does is it gives you certain confidence in yourself as an advisor as you understand the principles behind the things you're doing. When you have that confidence, clients can see that, and it helps build more trust because you've taken the time and effort to study the things you are recommending," Thiel said. Now a graduate of the California Lutheran University MBA program, Thiel says his understanding of financial planning has grown and strengthened.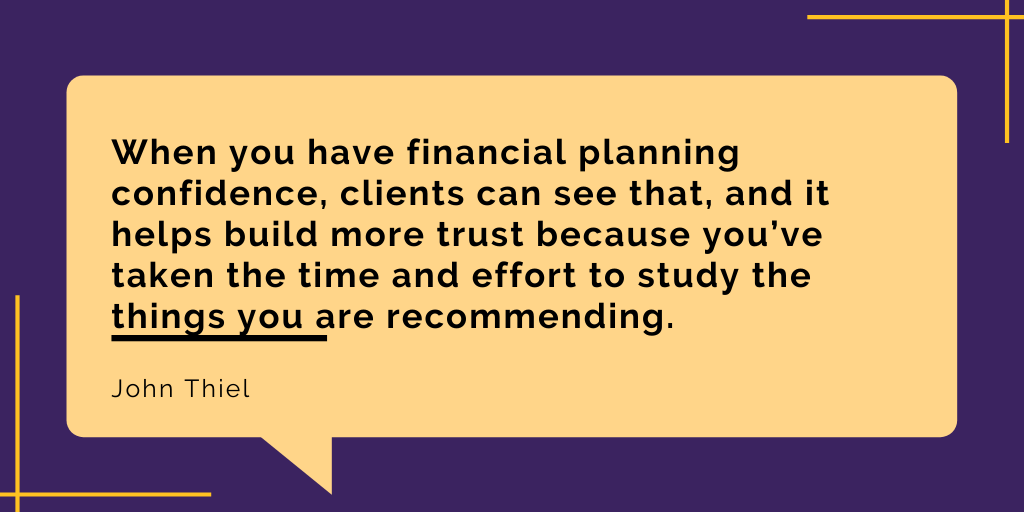 An aspect of the program that Thiel enjoyed was "Meeting multiple instructors who had lots of experience in their fields. It's great to learn knowledge from them and their experiences," he said. He has also enjoyed building relationships and making friends with the other students in the program. 
"I would say for others like myself who are already working in the industry and don't want to slow the momentum in your career, I think this course really provides a powerful mixture of both earning an MBA and the CFP® certification. I definitely recommend it," he said. 
Working on the VCLA Pro Bono Project
During his time in the program, Thiel had the opportunity to work on the Ventura County Lodging Association (VCLA) Pro Bono Project, which partnered with California Lutheran University to design, develop, and administer a Request for Proposal (RFP) of short term asset management services. He worked on a team of six graduate students alongside professionals. 
"It was rewarding. It was also challenging," he said. Working with a live-organization with imperfect information was a different and useful experience compared to working on a textbook problem. Dr. Chia-Li Chien guided the team and helped them learn how to tackle the challenge and work together as a team. Thiel enjoyed the opportunity, collaboration, and working with others.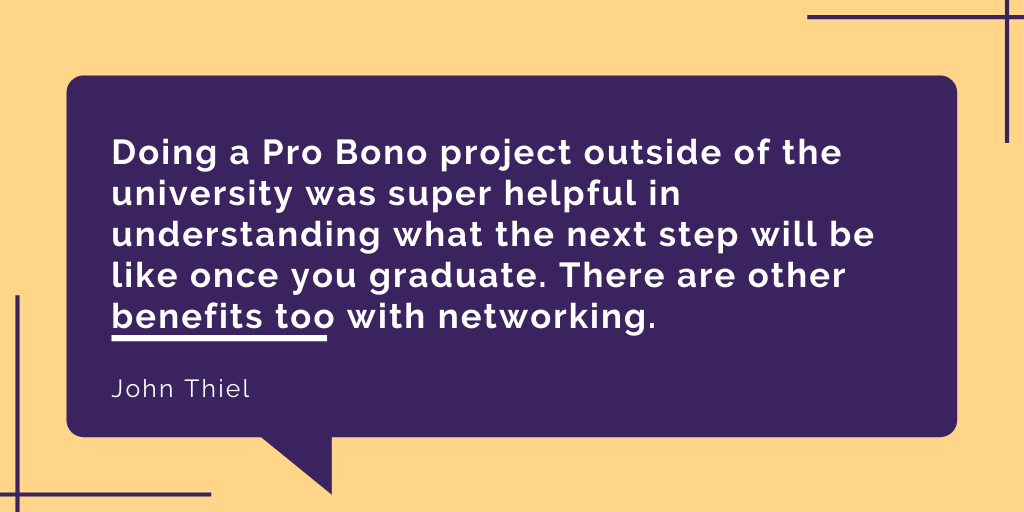 "Without question, I would recommend an opportunity like this to anyone. Doing a Pro Bono project outside of the university was super helpful in understanding what the next step will be like once you graduate. There are other benefits too with networking with the students, the professors, and the organization. It's such a virtuous cycle," he said. 
Looking Into the Future
In five years, Thiel would like to be still working at Private Ocean as a more skilled advisor, supporting clients, and helping mentor others. "I'm working in a great company right now that has a great culture and a lot of opportunities," he said. 
He would also like to become an equity partner of the company. "I feel like I'm already in my dream job because it just has a mixture of all the things that I would look for when working with an employer. I think a dream job is part of the journey, not just a destination. It should be a place where you see the journey of your career unfolding in the best way possible with the most opportunities, challenges, and all kinds of adventures opening up to you," he said. 
Last Thoughts of The Interview
Thiel's other passion is dancing. In his last year at university, he started ballroom and salsa dancing, which he continues to enjoy doing today. For several years he has been participating in weekend-long salsa dancing festivals. He also enjoys hiking and spending time at the beach since moving to the Bay Area. 
Thiel ended the interview with some advice to other students who are doing online programs like the Financial Planning MBA. "I highly recommend visiting the campus at least once before you graduate as it gives you more connection to the program and the place," he said. 
Thiel also said that he thinks it is important for students to learn how to budget and understand cash flow. Both are essential elements of financial planning that can be learned at a younger age. He also said young adults should take advantage of compound interest and learn how to invest, even if it is small.  
About the Interviewee: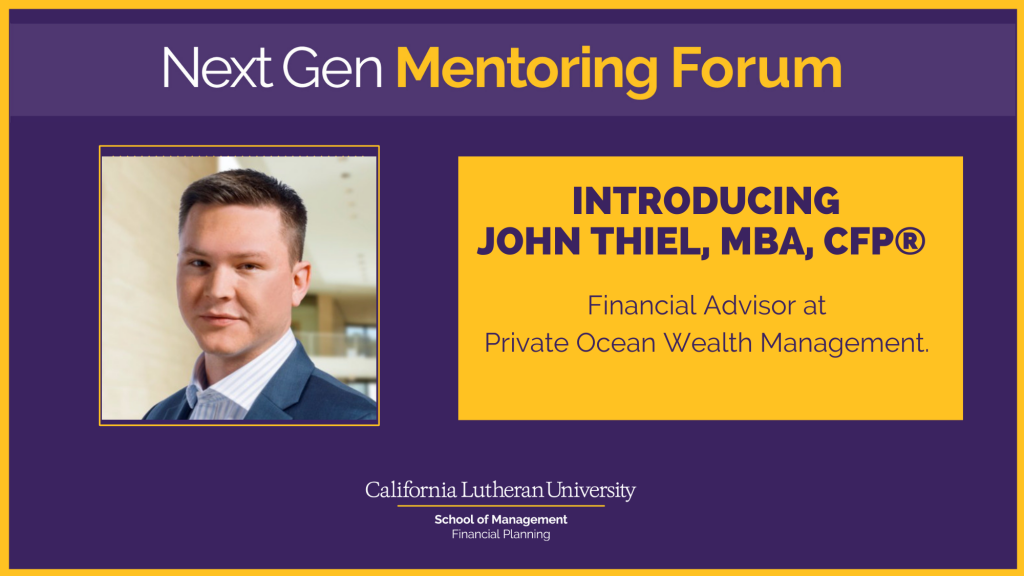 John Thiel graduated from California State University of Sacramento with a bachelor's degree in Business Administration and an emphasis in International Business. During this time, he spent nine months studying at Oxford Brookes University in Oxford, England. After graduating, Thiel worked in the insurance industry before joining an independent financial planning firm in Sacramento, where he worked for three years. Since the beginning of 2019, he has been working as a financial advisor at Private Ocean.
About the Author:
Rosie Baker is an undergraduate student at California Lutheran University, graduating in May 2021. She is studying Communication with an emphasis in PR and Advertising and has a minor in Creative Writing. In July 2020 she published her first book, Mirrors & Windows: Unlocking a New Framework to Envision Your Success, with New Degree Press.