How to Use Financial Counseling and Coaching Skills to Help Your Clients?  
Failure scares many of us, if not all of us in some way. Whether it is something big like not achieving our dream job or something small like undercooking a chocolate birthday cake. Carrie Beckstrom, an expert in communicating and the CEO of Power Speaking. Inc discusses how to reframe failure, vital communication soft skills everyone should practice, and how to analyze an audience plus many other topics in her interview with Dr. Chia-Li Chien. 
Beckstrom recommends these three ways to reframe failure: 
Focus on your strengths and be clear on what they are.

Step outside of your comfort zone as the most rewarding things in your life come from doing just this.

Practice, Train, and Research communication techniques, but most importantly commit to them. 
The first minute to two minutes is the most vital when you want to make an impression. If you start weak, it is hard to recover, Beckstrom explained. "If you do nothing else, make sure you have your opening down pat, whether it's an interview you're preparing for, a difficult discussion, a pitch to a client, or a presentation. You need to rehearse that opening," she said. 
The Importance of Communication Skills
Having good communication and other behavioral skills are the new power skills said, Beckstrom. "The number one skill that recruiters, CEOs, and employers are seeking from graduates are referred to as either power or social capital skills," she said. These skills refer to writing and verbal communication, working with others, and the ability to influence others. Now more than ever there is an emphasis on the importance of having these skills as companies are now global organizations. What's more, having these skills lead to building strong relationships. 
How to Overcome Excuses 
We are all guilty of having excuses for ourselves, whether it is putting off doing a task or having a reason to not step outside of our comfort zones. Ask yourself, Beckstrom said, "How are your excuses and self-imposing limitations serving you?"
How do the choices are you choosing benefit you? Do you want to stretch yourself out of your comfort zone and reap the rewards from being uncomfortable for a period of time? You can only grow and get these rewards when you take the courage to step outside of your comfort zone she explained. "It doesn't matter what level you are at, there is always an opportunity for improvement," she said. Whether you are at entry-level or the CEO, learning, and growing will never cease. 
What Makes an Effective Communicator
If you want to be an effective communicator, you want to show others that you are not perfect. What makes us all human is having weaknesses. "Converting confidence, capabilities, aspirations and to be willing to show vulnerability and weakness that humanizes you and makes you so much more relatable," Beckstrom said. What's more, effective communicators always come from an audience perspective, never a speaker. We must be mindful of this especially when hosting a presentation. 
Why You Should Analyse the Audience's DNA 
An audience's DNA is Demographics, Needs, and Attitudes. 
Demographics covers roles and responsibilities, knowledge level, technical language understanding, and ethnic or gender considerations. 
Needs asks the questions of: Why should your audience care? What's in it for them? (WIIFM)
And Attitudes is thinking about the expectations of the audience's feelings. Will they be advocates or naysayers? 
To find out these answers social media resources can be used, in particular, something like LinkedIn and don't be afraid of asking to learn more. It is important not to make assumptions about who the audience are. A successful communicator is in the preparation. 
Another thing to keep in mind with the audience is that you want to zero in on the purpose at the beginning to have a greater chance of achieving it by the end. By beginning with the end in mind, you know the goal of what you want to achieve Beckstrom said.  
What Are the Typical Objections
Typical objections often relate to cost and ROI. It is the battle of resources. Therefore, it is important to be mindful of these objections and ask yourself what makes yours rise above the others? Those you are pitching to spend their day being asked and pitched to. You want to rise above and be prepared to know how to handle objections. However, don't ever fake the answer. Sometimes things come up that you aren't prepared for and that is okay said, Beckstrom. 
Soft Skills Drive Wage Growth 
"The job roles that accelerated in terms of wages over the past 30 years were those that combined soft skills and the more technical skills," Beckstrom said. To make your financial career differentiate, couple your expertise with strong soft skills for good communication. In finance, do you want to tell or make the news? By using effective communication, you can give insight into the information rather than just sharing the information. Turn a decision into action she said. 
Beckstrom also mentioned the importance of seeking out mentors that you can use to help. The host, Dr. Chia-Li Chien said to not be afraid to ask someone to be a mentor. Growth and learning will come from them. Furthermore, they can help you expand your network. 
One Recommendation From Carrie Beckstrom
The webinar ended with a final thought from Beckstrom. She said you must commit now to honing this skill of soft skills communication. "It will serve you well regardless of your pursuits and it's a way to differentiate yourself and give yourself a greater edge and more satisfaction," she said. 
If you would like to learn more about careers in Financial Planning, reach out to the Financial Planning program here at California Lutheran University. 
About Carrie Beckstrom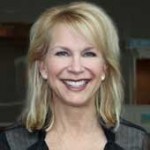 Carrie Beckstrom joined PowerSpeaking, Inc. in 2018 after more than 30 years in the learning and development field. Her mission was to help take a company that has positively impacted more than 300,000 people over the past 33 years to new heights in leading-edge communication and presentation skills development.
Prior to joining PowerSpeaking, as ADP's Vice President, Enterprise Learning, I was honored to lead teams that made Training Magazine's "Training Top 125" 10 years in a row. Driving those achievements was a vision and passionate sense of direction that said, "Our purpose is to make great people even greater at what they do every day."
Carrie is passionate about her field because it changes lives, careers, and businesses. Carrie states, "I'll never tire of seeing people transformed and elevated after learning how to speak their truths, communicate with courage and clarity, and inspire others to move their causes, business, and industry forward."
About the Host
Dr. Chia-Li Chien is a succession program director at Value Growth Institute, a succession consulting practice dedicated to helping business owners increase their firms' equity value. Before her private consulting practice, she held several senior management positions in Fortune 500 companies. Dr. Chien is a director of the financial planning program at the School of Management at California Lutheran University. Dr. Chien is a frequent speaker about succession and retirement planning at national conferences and has published three books, including her most recent publication, "Enhancing Retirement Success Rates in the United States." Dr. Chien serves on the boards of various national financial service associations. She holds a doctorate in financial planning and is a Certified Financial Planner (CFP®) as well as Project Management Professional (PMP®).
About the Author
Rosie Baker is an undergraduate student at California Lutheran University, graduating in May 2021. She is studying Communication with an emphasis in PR and Advertising and has a minor in Creative Writing. In July 2020, she published her first book, Mirrors & Windows: Unlocking a New Framework to Envision Your Success, with New Degree Press. 
Discussion topics will include strategies that enable advisors to communicate in ways that maximize client and company success or reach their goals.
How do you communicate for success?
What form of communication is most important when considering goal efficacy?
How will communications help you grow your practice?