October 15, 2020
Kendyl Roundtree loves her job and helping others so much as a Certified Financial Planner that she genuinely feels she is not working! Roundtree is a well-accomplished young woman for her young age, working her way up the career ladder in financial planning.
Roundtree went to Loyola Marymount University in Los Angeles to study for her undergraduate degree in Communication with a Sociology minor graduating Magna Cum Laude. As an undergraduate, she didn't know what career she wanted, but she knew she wanted to have an MBA which she went on to earn at Pepperdine University after graduating. Roundtree then earned an MS in Financial Planning at California Lutheran University a few years later. 
Falling in Love with Financial Planning 
After interning with her father, she decided she wanted to earn an MS in Financial Planning. Her father, Daniel Roundtree, has been working in the industry for 40 years and is a Certified Financial Planner with his own practice in Westlake Village, California. Growing up she spent time around him and the industry. When stuck about what career she wanted to endeavor, she decided to interview her father about what his job is as a Financial Planner. 
Afterward, Roundtree spent six months interning for him. This is when she fell in love with being a CFP®. Fast forward to the present day and she has been working at her father's practice for six years. The practice consists of four CFP®'s, one of which is an adjunct faculty at California Lutheran University and two have graduated from the program. 
Catapulting Into Her Career
Roundtree was recommended by many CFP® professionals who had earned their MBA degree in Financial Planning at California Lutheran University, including her own father, to take the course. She also works with one of the MBA adjunct professors, Scott Nelson, in the practice. She described the  degree as the "catapult to my career."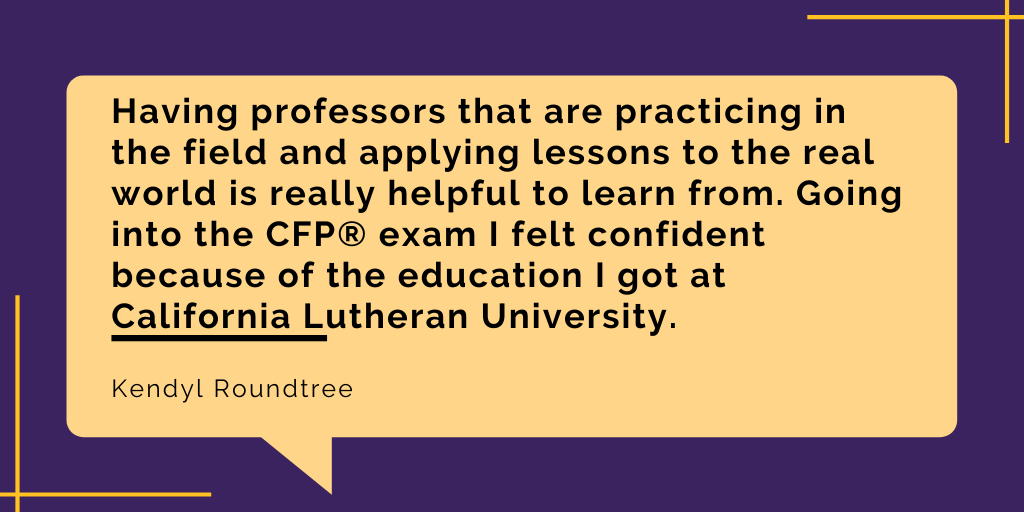 "Having professors that are practicing in the field is really helpful to learn from. They did a fantastic job to apply the lessons to the real world. Going into the CFP® certification exam I felt confident because of the education I got at California Lutheran University. It's the classes and discussion with the other classmates that got me to achieve my career goal of earning a CFP®," she said. 
Roundtree described the MBA program at California Lutheran University as, "The perfect program because I could take the CFP®  certification course after taking the MBA. It really prepares you to be a certified financial planner professioanl, not only the knowledge but the how-to and the behavioral side when working with clients," she said. Currently a Junior Partner at Roundtree Financial in Westlake Village, California, she has a goal to become a partner in the next few years. 
Being a Woman in Financial Planning 
The number of females in the financial planning industry has been gradually increasing over the past few years. According to the Bureau of Labor Statistics, the number of female CFP®'s is now close to 23% as of 2014. Roundtree works at a practice where females are the majority, "Embrace being a woman. There are many people who just want to work with women," she said. 
Roundtree also said to be confident in your knowledge and what you know from your education and previous experience. She also said to find a niche that you can become an expert in as financial planning has many areas and niches. At the end of the day, "Clients need to know that you're someone who can help them," she said. 
SOM Prime Competition Finalist
Recently Roundtree was a finalist in the School of Management PRIME competition. Her paper topic was "Discovering Behavioural Issues Related to Retirement Planning." The focus of her paper was to help provide financial planners with communication skills to extract information from the clients so they open up about their relationship with money and their experience. This then allows the financial planner to understand why they make the decisions about what they do with their money. Having an understanding allows the planner to have a much deeper level of understanding with their client. It takes time to understand who you are working with and know what behavior needs changing if necessary Roundtree explained.  
Family Influences
Both Roundtree's mother and father have inspired her as well as supported her throughout her education and career. Ever since she was a young child, her mother has had an occupational therapist business, watching her grow her business as well as look after her family-inspired Roundtree. "She is a successful business owner and a wonderful mom, she has inspired me being able to wear so many hats and be successful in doing something that she loves," she said. Watching both her parents thrive in their jobs of helping others led Roundtree to ask the question, "How do we find a way to do what we love while also helping others?" Ultimately leading her to become a CFP® like her father. 
Roundtree has close relationships with her family eating weekly dinners with them as well as working with her father. Born and raised in Westlake Village, California she loves painting, being creative with her hands, camping, and a good glass of wine. Aside from financial planning, another passion of Roundtree is traveling across the USA and the world. She has had 24 hours trips to both Dublin and Tokyo! 
About the Interviewee:
Kendyl Roundtree has a degree in Communication with an emphasis in sociology from Loyola Marymount University, Los Angeles. She has an MBA from Pepperdine University and an MS in Financial Planning from California Lutheran University. She currently works at Roundtree Financial as a Junior Partner. 
About the Author:
Rosie Baker is an undergraduate student at California Lutheran University, graduating in May 2021. She is studying Communication with an emphasis in PR and Advertising and has a minor in Creative Writing. In July 2020, she published her first book, Mirrors & Windows: Unlocking a New Framework to Envision Your Success, with New Degree Press.