Dr. Chien interviewed Professor Jason McCarley, on "Can Robo-Advisors Help Financial Planning Professionals?" on April 20, 2021, at 1:00 pm PST.
The growth of FinTech helps both consumers and financial planning professions in many ways. Financial planning professionals established relationships and trust over time. They guide their clients through their financial journeys. The use of Robo-Advisor is on the rise and is a part of many financial planning professionals' offerings. In this session, we will discuss the following questions:
What are some inherent biases that could harm consumers?
What are the variables that influence automation trust and dependence?
How to overcome these biases?
How to prevent these biases?
Reference:
Bartlett, M. L., & McCarley, J. S. (2019). Human interaction with automated aids: implications for robo-advisors. Financial Planning Review, 2(3-4). https://doi.org/10.1002/cfp2.1059
Professor Jason McCarley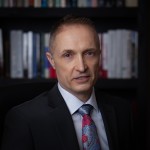 Jason McCarley is a Professor in the School of Psychological Science at Oregon State University and has previously held faculty positions at the University of Illinois and Flinders University in Adelaide, South Australia. He conducts research in the areas of human factors and applied cognition, with a focus on attention, signal detection, and human-machine collaboration.