March 24, 2021
Linda Clayton has a mantra that she lives by when working with her students and her clients. It's a line from a song called For Good by the Broadway musical Wicked and it goes like this, "Because I knew you, I have been changed for good." After Clayton has worked with either her students or clients she wants them to be able to say that they are better off from working with her: that she has helped them for good. 
Currently, Clayton is teaching Financial Planning, in prior terms she taught graduate students and business undergraduates. Her influence for starting a career as a financial advisor started when her doctor mentioned to her one day that their advisor was looking for someone just like her. She previously used to manage finances for an airline company but after 9/11 the world changed. Clayton left her job at the airline company after being hired by her doctor's advisor, she got her securities license and earned her MBA and CFP® at California Lutheran University. Embracing that the only thing she could rely on in her career is the inevitability of change being constant. 
Helping Others Understand Finances
Clayton's passion is about helping others to "improve their situation and understand what they're doing," she said. She wants to share concepts and education that she wished she knew when she was younger to help her students and clients understand the world of finance. 
Her main specialty is being a financial planner working with clients in transition. Over the years she has worked with many members of the same families. She also does wealth management, is a certified divorce financial analyst, CDFA®, mediator, and faculty member at California Lutheran University. Her goal is to empower clients to make financial decisions themselves by giving them the resources and information needed. "As a planner, you hope to really listen and help the clients tell you what they want and how to get there," Clayton said. She believes that being a mediator has helped her be better at listening to others by developing this skill.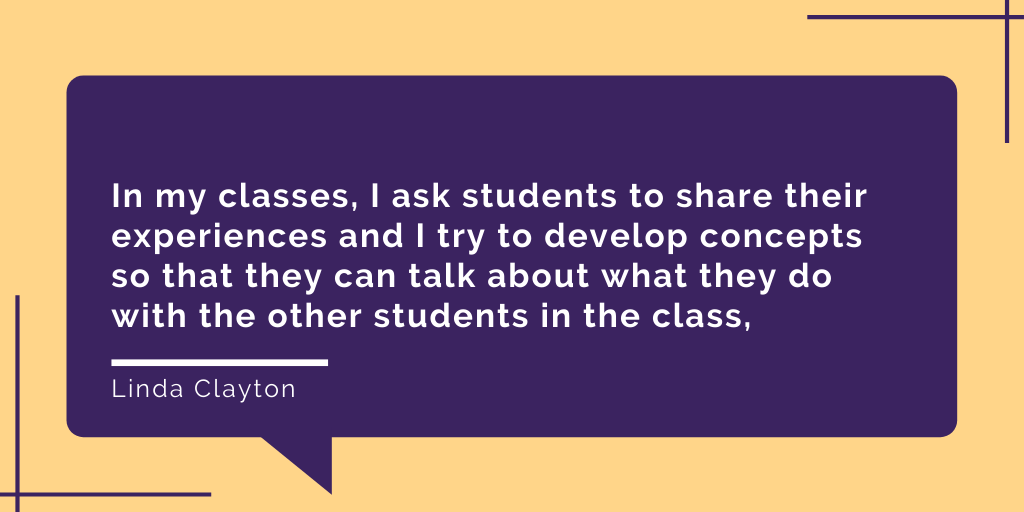 Sharing Experiences 
Ever since high school, Clayton has been busy teaching others. It's something she loves and in return, she loves learning from the students and gaining new perspectives. "In my classes, I ask students to share their experiences and I try to develop concepts so that they can talk about what they do with the other students in the class," she said. It's very important to Clayton that her classroom is a judgment-free zone where students can learn, share their ideas, and work. 
Another part of teaching that Clayton loves is hearing from her students after they have taken her class. "I hope my students continue to reach out because it's so fun to hear what they're doing and how their careers have developed and what their lives look like now," she said happily. Knowing that her students have embraced the material and put it into practice in real-life examples makes the learning in the classroom worthwhile. 
One Size Does Not Fit All
"Sometimes a topic that you think is really interesting may not be to the students and what their learning style is," Clayton said. "Some of them really like proof, organization, and detail. Some want to cut to the chase. I try to get an idea of where they're coming from so that I can make sure they hear me and the communication gets through. One size fits none, you have to be a flexible professor and find different ways to explain if what you are saying is not the way a student processes information." Being a good professor to Clayton is having the ability to be a good listener to hear your students. She likes her classes to be a mix of lecturing and interaction between the students.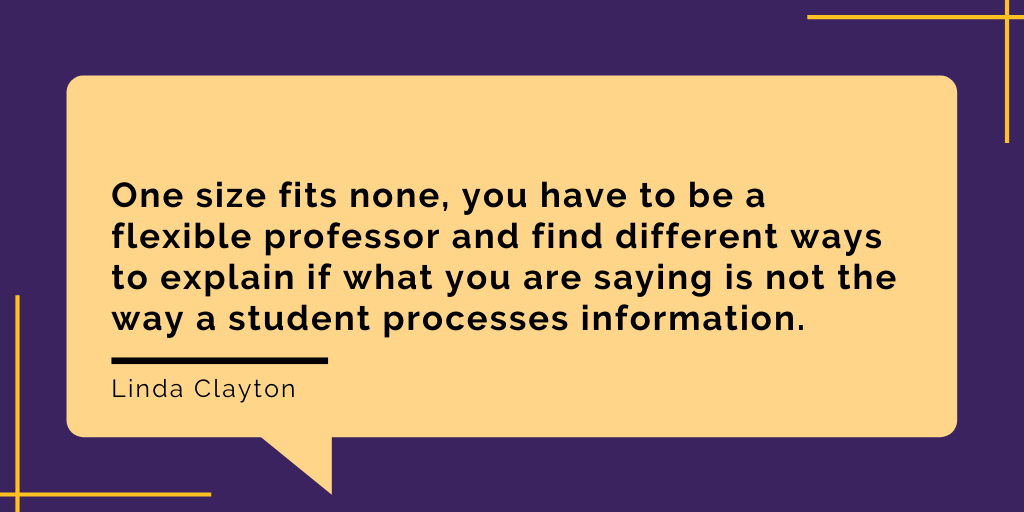 Making the Most of Class
On the other side of the coin, Clayton believes the qualities that make a good student are having the ability to speak up, communicate with the professor if they're struggling or need help, and stop having the idea of needing to be perfect on your first try. "I think for students this is such a valuable experience that goes by so fast that they don't give it their full attention when they're in class and they try to do too much," she said. Clayton believes students should stop multitasking in class and get the most out of the program. Although class time and work may feel like forever, it isn't for very long and students should make the most of the opportunity they have to learn and interact with a professional.  
When Clayton was a student in the Financial Planning program at California Lutheran University she had an inspirational professor. Harry Starn who used to teach at California Lutheran University was the first professor of the first-class Clayton took. "He was really inspiring to me, I loved his approach and detail, and his encouragement. I really felt myself wanting to do a good job," she said. He inspired her to be the professor she is today. 
Clayton's Free Time
In her spare time before the pandemic, Clayton loved to go to spin classes early in the morning with her CFP® friend. Since the pandemic, Clayton hasn't been able to continue her spin classes so instead, she enjoys seasonally decorating her home for the holidays. Currently, her dining room table is ready for St. Patrick Day later this month!  
About Linda Clayton: 
Linda has always known that she wanted a career working with people.  This love of working with people prompted her to be active in the PTA, and in her community, serving as two-term Publicity Chairman and two-term President of La Canada Junior Woman's Club.
While earning her Bachelor's Degree in History from UCLA, Linda worked her way through school as a retail manager of several departments at a local Sears store. Upon graduation, she began her career at Continental Airlines. She worked her way up through customer service positions, ultimately promoted to the Western Regional Sales and Marketing Manager of 15 ticket offices for Continental, and another for their international partner, COPA Airlines. Having the responsibility of running each of these offices as her own small business for fifteen years, managing bottom-up budgeting, journal entries, marketing, and auditing, she learned to love finance. After the tragic events of September 11th and the airlines began closing their autonomous offices, Linda switched career paths.
Linda began her career in Financial Planning as a relationship manager/ paraplanner, working in the Life Planning division of a boutique Financial Planning firm. In addition, she also worked in a human resources position with Working Solutions, interviewing applicants for work-at-home agent positions. In these roles, Linda was able to combine her love of working with people and finance. To visit her website click here https://www.lindaclaytonadvisory.com/
About the Author:
Rosie Baker is an undergraduate student at California Lutheran University, graduating in May 2021. She is studying Communication with an emphasis in PR and Advertising and has a minor in Creative Writing. In July 2020, she published her first book, Mirrors & Windows: Unlocking a New Framework to Envision Your Success, with New Degree Press.