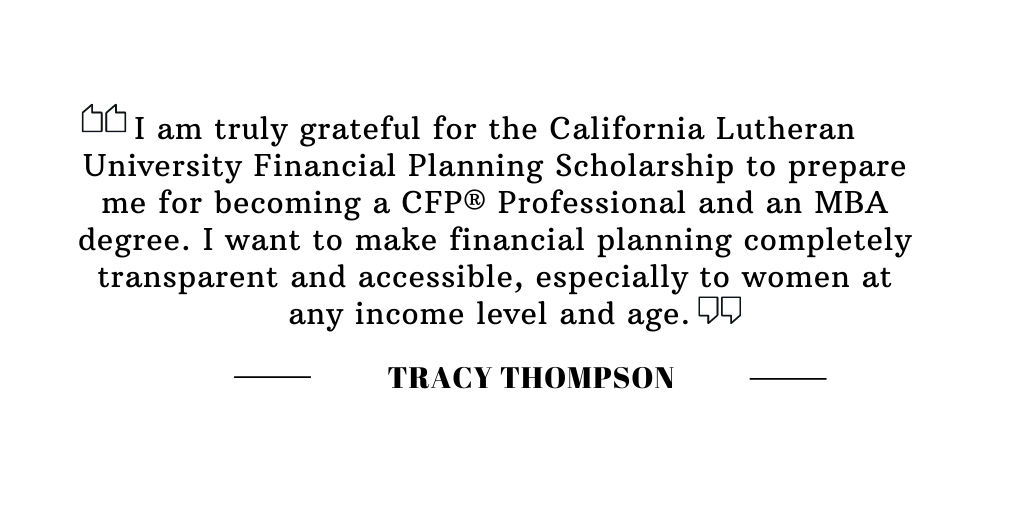 Earlier this year the CFP Board Center for Financial Planning and California Lutheran University announced a new joint scholarship program in an effort to increase the number of CFP professionals.
At the beginning of August, the first inaugural recipient was announced, Tracy Thompson! A soon-to-be December 2020 graduate with a Bachelor of Arts in Music Performance with a Vocal Emphasis and a Bachelor of Science in Business Administration. She is also enrolled in California Lutheran University's 4+1 Program to earn an MBA in Financial Planning. This announcement marks the beginning of something very exciting in terms of what can be offered to California Lutheran University students and the future of the financial planning industry. 
Meet Tracy Thompson
Thompson transferred from Ventura College to California Lutheran University to continue her undergraduate studies. Originally she transferred to earn a BA in Music with a minor in Business Administration. But with a free semester left on her schedule, Thompson decided to transition her business minor to another major. 
"I applied for the scholarship because I had got into the MBA 4+1 Program. When I got the email [about the scholarship] I pretty much had all the requirements and I had nothing to lose by applying. Cal Lutheran has been exceptional in their transfer process which made that really easy. Being accepted on campus as a peer has been a blessing. Cal Lutheran has completely expanded any horizon that I had and any chance to surround myself with people that I wanted to be like," she said.   
Thompson has not only found life-long friends, but also confidence within herself. She traveled to Spain with the Choir, is an active part of the community as well as participating in Delta Sigma Pi (DSP) and is the treasurer of the club Circle K. 
The Importance of the Scholarship
The scholarship is giving Thompson the possibility to earn an MBA. "Without the scholarship, I doubt I would be able to actually afford the full cost of the program on my own. This is a huge blessing for me. I plan on using this to sit for the CFP exam and be a Certified Financial Planner," she said.
After earning her CFP Thompson wants to "make financial planning completely transparent and accessible especially to women at any income level and at any age. Women should be able to have access to financial planning no matter where they are at. Having pulled myself out of a very low position of domestic violence I would like to show people how to get out of that," she said. 
Being an adult learner Thompson believes that in the next decade we can expect to see more of others like her. The pandemic has given many the time to reflect and look at what their options are. She wants to use her story to inspire others thinking of earning a degree and an MBA at an older age that it can be done. 
Scholarships Provide Opportunities 
Scholarships give students the opportunity to progress their educational career without financial worries. For many, earning a degree, whether it be undergraduate or graduate, is an expensive and out-of-reach possibility. The financial planning scholarship helps remove the financial burden while enriching students as they earn their degrees.
The Financial Planning Industry is Changing 
Financial Planning is an industry that is progressing now more than ever in terms of increasing representation in gender, race, and ethnicity. The country we live in today is diverse, and there is a need to also have a representation of diverse financial planners. This is an amazing opportunity to go into a field and make a difference to others. 
"Cal Lutheran's partnership with the CFP Board Center for Financial Planning will help us advance diversity in the financial planning profession," said Chia-Li Chien, PhD, CFP®, PMP®, director of the financial planning program at Cal Lutheran. "We are committed to expanding access to our MBA and MS in Financial Planning program to students in underserved communities." 
For more information, visit the scholarship webpage or contact the California Lutheran University Financial Planning department.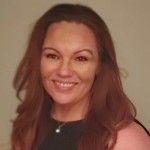 About Tracy Thompson
Tracy is a California Lutheran University student in the 4+1 program. She is completing a BA in Music Performance with a Vocal Emphasis, and a BS in Business Administration with a Finance emphasis in December 2020. She is passionate about choral music, nonprofit administration, and sea turtles. She has been involved with many organizations working at the Grossman Burn Foundation (non-profit) as the Program Support Specialist until the COVID-19 pandemic. She was the coordinator of the Senior Burn Prevention & Education Program. GBF programs include Project Faith, SoCal Survivors (support groups), Burn Treatment, Training & Telemedicine Program, The Humanitarian Assistance Manual (global), Stop Violence Against Women Globally Program.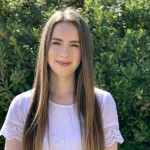 About the Author:
Rosie Baker is an undergraduate student at California Lutheran University graduating in May 2021. She is studying Communication with an emphasis in PR and Advertising and has a minor in Creative Writing. In July 2020 she published her first book, Mirrors & Windows: Unlocking a New Framework to Envision Your Success, with New Degree Press.