August 27, 2020
Jennifer Caruso is working at her dream job. Every day she loves meeting and helping others in her financial planning niche of divorce and women in finance as Senior Lead Advisor at Manchester Financial in Westlake Village, California.
Caruso went to Kennesaw State University in Georgia as a non-traditional undergraduate student earning a Bachelor's degree in Business Administration, Finance, Investment Analysis, and Portfolio Management. She took an interest in finance because she wanted to learn more as she was never taught about personal finance growing up, to her it was a "completely foreign concept." In between studying she spent the rest of her time looking after her three small children.
After graduating Caruso spent the next five years raising her children and looking after her family. Once her youngest reached the age of starting school, she took the opportunity to start her career at Genworth Financial which is a large annuity and long-term care company as a Retirement Income Specialist. Her job involved working with annuities and helping advisors. She worked there for a year having the realization that she wanted to be on the "other end of the tunnel in financial planning."
The next ten years of Caruso's career was spent working in client services. During this period she also relocated back to California. At the time, she wasn't ready to cross over into financial planning due to looking after her family as she was wary of the traveling and social events that often come with the role. However, she spent a lot of time around financial planning and was familiar with it when she did cross over. In 2015, Caruso became an advisor at Manchester Financial in Westlake Village, California progressing from Associate Financial Advisor to Senior Lead Advisor in just five years. 
California Lutheran University Financial Planning Program 
"When I found the CLU MBA program in conjunction with the CFP® program, it was just the perfect fit," she said. With not enough time in the day beforehand, Caruso was excited to do her MBA as well as prepare for the CFP® exam, a unique aspect of the Financial Planning Program at California Lutheran University. "I didn't see other programs like it and that was actually one of my deciding factors," she said.  
As a non-traditional student, Caruso loves the flexibility of the program being online and an eight-week model. "I'm able to be a working full-time person that can take one class at a time and still knock out five classes a year. That was important for me," she said.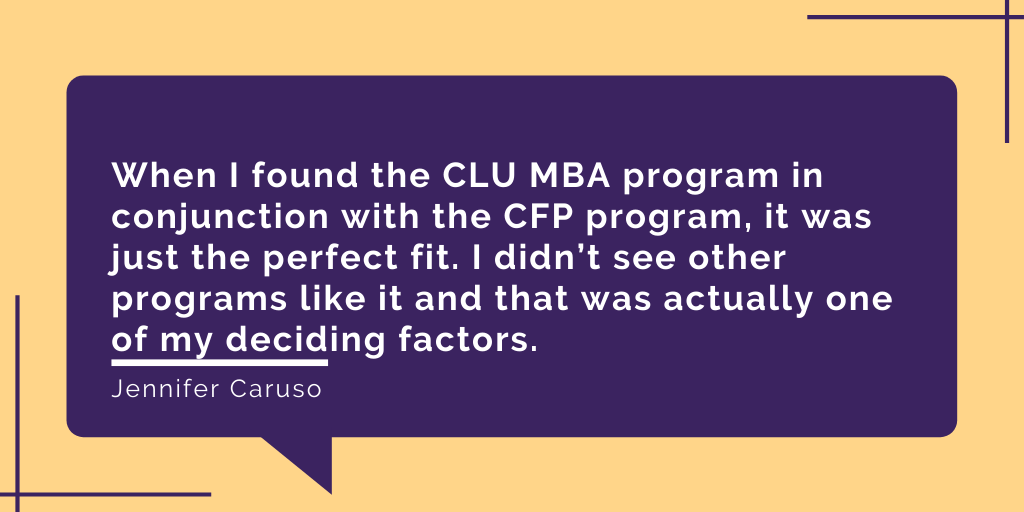 "I would highly recommend the program. All of the professors have been available to help with questions or advice whether that be within the school or professionally. They've been very, very helpful and it's a great program!" Caruso said 
The highlight of the program for Caruso was the capstone class. "Being able to accumulate everything that I did within the program and overlap it with what I do in my career, really gave me the visual of what I have learned and what I know. It was a real eye-opener to go through the capstone successfully," she said. 
With a few classes left and her planning experience completed, Caruso will soon be graduating and taking the CFP® exam this summer due to COVID-19 rescheduling.  
Living Her Dream Job
"I'm doing my dream job!" Caruso said. She genuinely loves what she does every day to help others make financial planning decisions. "Whatever the decision is, I get to actually be part of people's decision and I love that. I meet different clients and help them in different phases of their lives. I help a lot of divorcing couples and I went through a divorce myself with no help when I went through it. I did my own financials and decisions but didn't really have a lot of guidance because I didn't want to use an attorney and mediator. Unfortunately, a lot of people don't have a knowledge base like I had and make really bad decisions," she said.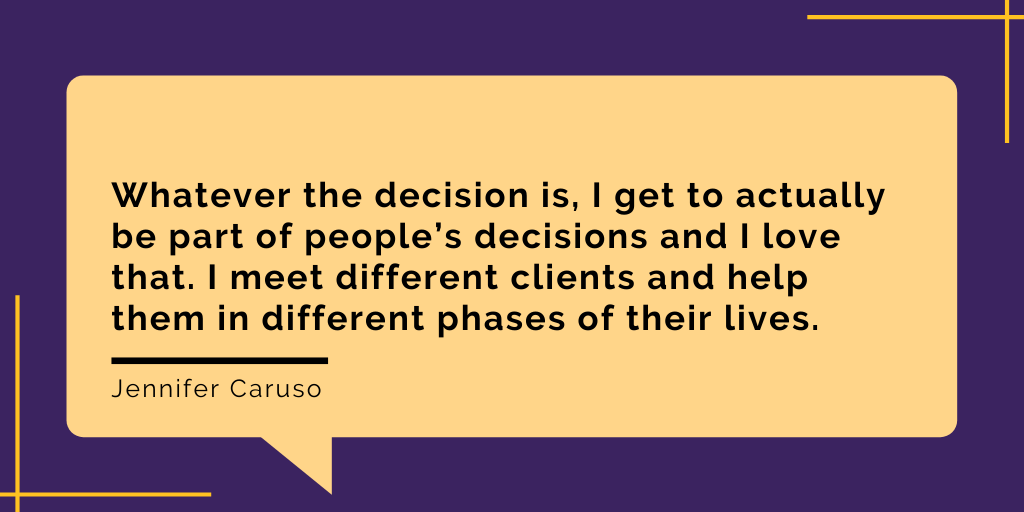 In the next five years, Caruso is looking for a partnership role potentially at her current team. But she wants to expand and have more independent roles. "This industry is flexible, you could do that on your own or you could do that as part of a firm," she said. 
Helping Other Women in Financial Planning 
Caruso works in two niches; one is helping divorcing couples and the other is working on the organization Women In Financial Transition otherwise know as WIFT, "It's an education with a specific focus on empowering women," she said. 
Women In Financial Transition focuses on helping typically older, married women to understand and have an active role in their finance. Caruso teaches quarterly workshops with a colleague tailored specifically to women. Once a year there is also a large, female professional panel about finances, estate planning, and mindfulness. With more women entering the workforce and an increasing number of divorces, it is important that women, as well as men, understand their finances to be independent. 
Being a Woman in Financial Planning
"When I first started in the business I thought I would like the asset management part of it, but I didn't. I preferred the people," Caruso said. This is why it is so important to try different roles within financial planning to see if you like being in the background or at the front working with clients. Caruso suggests taking an internship and working with PRA planners to try out different areas to see what you like.
Being a female in a male-dominated industry Caruso describes it as a "differentiator" making her stand out as a financial advisor and planner among her competitors. She said typically women are interested in working with her feeling more comfortable compared to working with a male. She receives a lot of positive feedback about being a good listener and her female clients having a positive experience working with her. 
The Importance of Learning From Others
When Caruso first started in the industry the only role models she had were people who were untouchable. "There was no one real in my life for financial planning or wealth management," she said. 
Caruso thinks it is important to learn from others, including those you work with. Networking can help educate and improve your career. She recommends the Financial Planning Association where you can network with other professionals. 
"If you can learn from someone's experience and mistakes that's ideal. You only know what you know and what you experienced. Being able to network with other professionals allows you to learn from their experiences," she said. 
When Caruso isn't working or spending time with her family she participates in long-distance running. Entering half and full marathons locally or taking a race-cation. She has a goal to complete a half or full marathon in every state around the country. She is currently a fifth of the way to her goal and hopes to be even further by the end of the year with plans to run in New Mexico, Texas, and Utah later this year. She also has plans to participate in a race in Antarctica in 2022, potentially starting a new goal of running in every continent! 
About the Interviewee: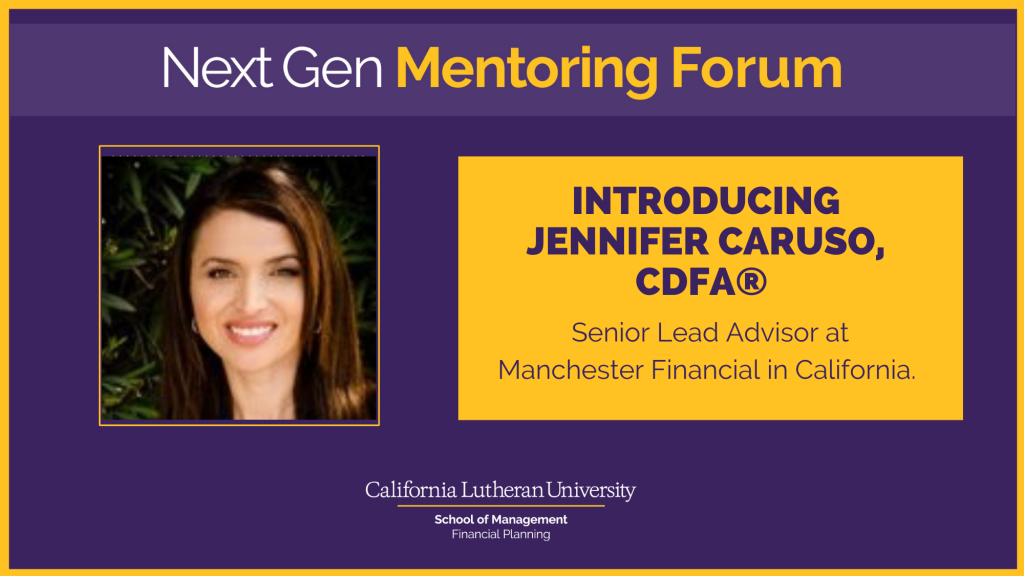 Jennifer Caruso graduated from Kennesaw State University in Georgia earning a Bachelor's degree in Business Administration, Finance, Investment Analysis, and Portfolio Management. Since she has worked as a working Retirement Income Specialist with annuities and helping advisors and spent ten years working in client services. In 2015, Caruso became an advisor at Manchester Financial in Westlake Village, California progressing from Associate Financial Advisor to Senior Lead Advisor in just five years. 
About the Author:
Rosie Baker is an undergraduate student at California Lutheran University graduating in May 2021. She is studying Communication with an emphasis in PR and Advertising and has a minor in Creative Writing. In July 2020 she published her first book, Mirrors & Windows: Unlocking a New Framework to Envision Your Success, with New Degree Press.